MRC Tries To Cancel Jim Gaffigan For Daring to Criticize Trump
Topic: Media Research Center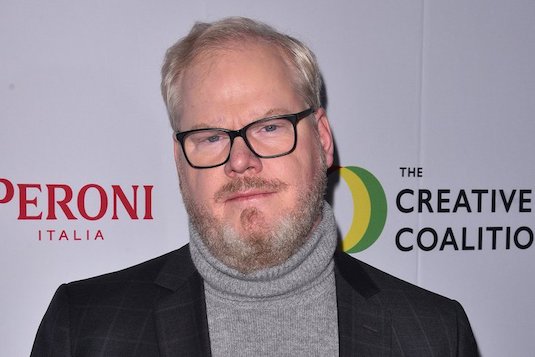 We've documented how the Media Research Center hated celebrities like Ricky Gervais and J.K. Rowling for holding non-conseravative views -- until they both decided to start hating transgenders as much as the MRC does. Now we have a case where that happens in reverse.
Jim Gaffigan was an MRC favorite for years. In 2015, it cheered how the comedian "got off a great zinger on Twitter yesterday aimed straight at Hollywood folks who look down on the average American who has given American Sniper their vote at the box office"; in 2017, Tim Graham and Brent Bozell praised a movie Gaffigan co-starred in trashing Ted Kennedy over Chappaquiddick (which tanked at the box office). As recently as August 2019, Christian Toto waspraising Gaffigan in a post headlined "Jim Gaffigan Veers to the Right, Slams Woke Film Critics," for not liking his "Chappaquiddick" movie enough; the next month, Toto praised Gaffigan again, this time for being "critical of how wokeness influences their business."
But last month, Gaffigan did the one thing that is absolutely forbidden at the MRC: criticized President Trump. And the MRC turned on him immediately. Gabriel Hays ranted at him in a Sept. 1 post that went personal and attacked his religious faith:
Jim Gaffigan is so secure and proud of his expletive-laden tirade against Trump, the GOP and their supporters from the last night of the Republican National Convention that he used nearly 2000 words on Facebook to convince fans that it was about him saving the country.

He indicated that his obnoxious and mean-spirited personal attacks on Trump's family and Trump supporters from August 27 were just him speaking out against the current president's destruction of America. He's preserving democracy for his grand kids, one "hey fuck you karen" at a time. Give him a break!

In a massive Facebook status, the nice "Catholic" comedian and future Joe Biden voter (those are irreconcilable by the way) tried to explain his full blown Trump Derangement Syndrome-caused break from reality.

[...]

Gaffigan believed his posts were righteous. He wrote, "I feel a responsibility to coming generations, my children but selfishly I didn't want to explain to my grandchildren that I didn't fight to stop Trump." The comedian added, "Maybe they will see that I stood up for decency, rule of law, and equality."

Well the bile Gaffigan threw out on Twitter spat in the face of decency, and the fact he claimed he stands for BLM means he stands for the opposite of "rule of law" and "equality." Just look at the BLM-inspired hate crimes and riots.
Toto -- who had formerly lavished praise on Gaffigan -- went into attack mode as well in a judgmental post headlined "Here's Everything That's Wrong with Jim Gaffigan's Anti-Trump Rant," sneering that Gaffigan's "Tweets themselves sound like a combination of Cher, Rob Reiner and Judd Apatow. That's never a healthy cocktail in 2020. And let's trot out the obligatory, "Gaffigan has the right to Tweet anything he pleases" explainer." Of course, Toto -- like all other MRC-affiliated writers -- doesn't believe people have that right if they tweet things that aren't conservative; otherwise, he wouldn't have written this post in which he ranted that "Gaffigan is a victim of Fake News, for sure. He's also an adult who has access to a wealth of news sources to get the full picture. He's as guilty of gaslighting his followers as the news is of outright lying to its readers."
You sure you're not the one who's a victim of fake news and gaslightling people, Christian?
Geoffrey Dickens included Gaffigan in a post detailing what he dismissed as "Hollywood celebrities screaming and tweeting about the 'chaos' in the streets that somehow was Donald Trump's fault," huffing that he "condescendingly attacked Trump supporters for voting for a 'criminal' 'traitor.'"
Criticism -- any criticism -- of Trump is verboten at the MRC, and they must ridicule and shout down anyone who does, even former friends like Gaffigan. Cancel culture, anyone?
Posted by Terry K. at 1:35 PM EDT