MRC Finally Finds A Journalist Whose Political Opinions It Approves Of
Topic: NewsBusters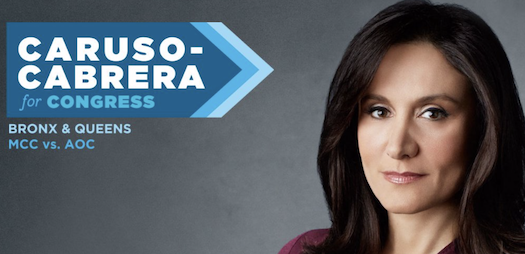 A key piece of the Media Research Center's anti-media narrative is attacking anyone in the media who says anything even vaguely "liberal." But whwen a member of the media not only spouts conservativism but uses that media platform to do so? That bias is totally cool.
Thus, a Feb. 13 NewsBusters post by Randy Hall expressed unbridled joy that a member of thte media crossed over into politics to take on an MRC nemesis:
Liberals in the media have cheered the far-left Alexandria Ocasio-Cortez, focusing more on her celebrity status and less on her rabid socialism. Ocasio-Cortez won New York's 14th congressional district in November of 2018 after a shock primary win over another Democrat.

While several people have expressed an interest in running against her in this year's primary and general election, the most recent person to challenge that member of the liberal "Squad" is Michelle Caruso-Cabrera, a former anchor for the CNBC channel who is a registered Democrat and a descendant of Cuban immigrants.

According to an article posted on Tuesday by Fox News Channel reporter Sam Dorman, the challenger "has been a fierce critic of socialism and an advocate for free markets."

That viewpoint was especially evident in her 2010 book entitled You Know I'm Right: More Prosperity, Less Government, where she called out both major political parties for ignoring "fiscally conservative, socially liberal" Americans like herself.

In the introduction to her book, Caruso-Cabrera noted that the "core principles of Reaganomics rejuvenated an unstable economy," and "the Clinton-era policy successes took power away from the federal government and put money in our pockets."
Hall didn't seem curious why Caruso-Cabrera was running as a Democrat despite sounding like a conservative Republican with her praise of Reaganomics and attacks on socialism. Turns out the district that Ocasio-Cortez hasn't voted Republican in decades and leans heavily Democratic.
Hall also didn't mention that Caruso-Cabrera is just one of 13 declared candidates -- eight Republican and five Democratic -- looking to unseat Ocasio-Cortez, or that AOC has a multimillion-dollar campaign coffer and popularity within her district that will make her difficult to beat.
But, hey, intellectual consistency and full reporting of facts aren't exactly hallmarks of the MRC machine, are they?
Posted by Terry K. at 10:15 PM EDT
Updated: Tuesday, March 10, 2020 10:18 PM EDT