CNS Unemployment Coverage Distortion Watch
Topic: CNSNews.com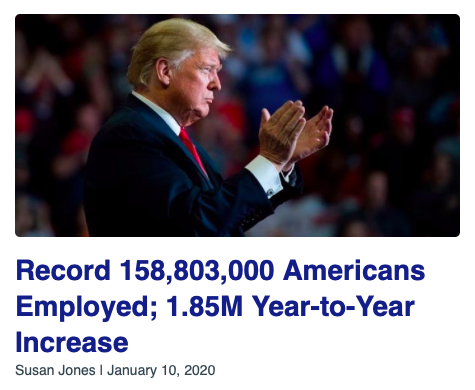 Susan Jones kicked off her lead story on December's employment figures with a little pro-Trump rah-rah from the man himself:
"As we begin this new year, our economy is booming," President Trump told a rally in Toledo, Ohio Thursday night. "Wages are soaring, workers are thriving, and America's future has never looked brighter."

Friday brought more good news, as the Labor Department's Bureau of Labor Statistics announced that the number of employed Americans -- 158,803,000 -- set a 25th record under President Trump.

Year to year -- since December 2018 -- 1,858,000 more workers have been added to American payrolls.

In December, the number of unemployed Americans, 5,753,000, matched the Trump-era low set in September 2019. The unemployment rate remained at its 50-year low of 3.5 percent.
Jones later found a way to spin bad news into good news, admitting the 145,000 jobs created in December were below the previous numbers, adding that "after revisions for October and November, job gains have averaged 184,000 over the last 3 months.
Jones also excused the stagnant labor force participation rate by invoking the history of how the rate "has never been higher than 67.3 percent, a level achieved in the early months of 2000" and that "Economists say retiring baby boomers account for some of the decline since the turn of the century" -- something she rarely did when attacking President Obama for effectively the same trend.
The usual sidebars also appear, but with a dose of reality. Terry Jeffrey had to admit that the number of manufacturing jobs dropped in December and that the total yearly number was well below 2017 and 2018 figures. Craig Bannister conceded that the Hispanic unemployment rate didn't change as "both the number employed and the number unemployed fell from November's level, as did the number participating in the labor force," though he did attempt some spin by claiming that "Fully 85% of Hispanics believe that their lives will get better in 2020 – topping the optimism of both Whites (79%) and Blacks (73%), a national USA Today/Suffolk University survey finds.
Melanie Arter, meanwhile, served up an article about how "House Speaker Nancy Pelosi (D-Calif.) on Friday downplayed news that the number of employed Americans reached a record-setting 158,803,000 in December, instead saying that the December jobs report 'caps a year of growing uncertainty' and 'surging costs of living for hard-working families.'"
Posted by Terry K. at 11:02 AM EST