MRC's Jean-Pierre-Bashing, Doocy-Fluffing Watch, Stolen Election Edition
Topic: Media Research Center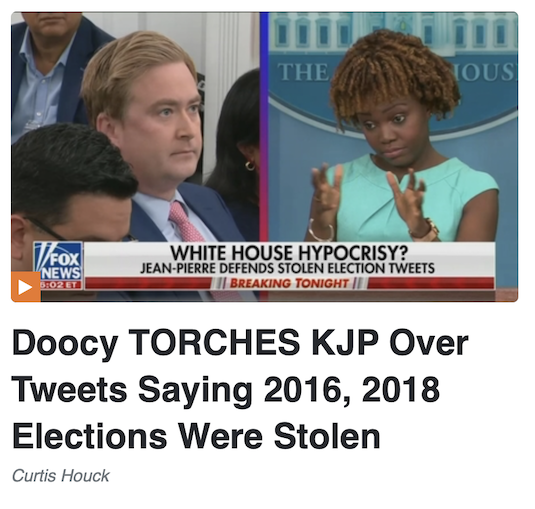 The Media Research Center's Curtis Houck was practically orgasmic in his writeup of the Sept. 6 White House press briefing -- under the screaming headline "HE WENT THERE" -- cheering a personal attack his mancrush Peter Doocy made against press secretary Karine Jean-Pierre:
Fox News's Peter Doocy opened the short week with a bang during Tuesday's White House press briefing as, after four months of silence from the entire press corps, he cornered Press Secretary Karine Jean-Pierre over her past tweets falsely claiming the 2016 presidential and 2018 Georgia gubernatorial elections were stolen by Republicans.

With much of the political discourse still fixated on the 2020 election results, it was pertinent for each and every reporter from the AP seat to those in the back corners, but those from the left to the right skimped. And, as Stephen L. Miller wrote, it's an abject failure that it hadn't come up.

Doocy took his turn by, as usual, asking a basic question with underlying motivations: "A follow up about that MAGA Republican attention. So, we're all in agreement that it is incorrect to say the 2020 election was stolen, what about the 2016 election?"

Jean-Pierre walked right into the trap by insisting she wasn't "going to go back to where we were or what happened in 2016" and would instead "focus on the here and now we're going to focus on what's happening today — this inflection point that the President pointed out very clearly, very decisively, and in a few speeches about what the country needs to do...to bring the country together."

Having been caught, Doocy explained he was "just in trying to understand the new attention on the MAGA Republicans" given her past tweets, but Jean-Pierre interjected to wonder why he hadn't asked this yet:

JEAN-PIERRE: Oh, I knew this was coming. I was waiting, Peter, when you were going to ask me that.

DOOCY: — well, great. Here we go. You tweeted, Trump stole an election. You tweeted Brian Kemp stole an election. If denying election results is extreme now —

JEAN-PIERRE: Yep.

DOOCY: — why wasn't it then?

Despite having allegedly spent months anticipating this question, Jean-Pierre's answer landed with a thud. First, she claimed "that comparison that you made is just ridiculous," leaving Doocy in a predictably exasperated state and wondering why.

Jean-Pierre argued she was allowed to say elections were stolen (even though "Kemp won the election in Georgia" and "Trump won the election of 2016") because she "was talking specifically at that time of what was happening with voting rights and the — what was in danger of voting rights."

Unsurprisingly, Jean-Pierre further defended questioning election results because at least her side didn't storm the Capitol in "an attack on our democracy" like on January 6
That's a perfecly valild answer, of course, but Houck will never admit it because that would interfere with his malicious narrative of painting Jean-Pierre as an incompetent diversity hire. And he's certainly not going to call out his beloved Doocy by name for waiting this long to bring up the issue.
And despite that perfectly valid answer, the MRC turned into an right-wing attack narrative anyway. The misogynistic Nicholas Fondacaro used a Sept. 7 post to attack the co-hosts of "The View" -- who he again hatefully smeared as a "cackling coven" -- for siding with Jean-Pierre:
Doing their part to endanger our country on Wednesday, the cackling coven of ABC's The View largely defended White House Press Secretary Karine Jean-Pierre and her denialism that former President Donald Trump legitimately won the 2016 election. Although, unusual battle lines were drawn as co-host Sunny Hostin took on co-hosts Whoopi Goldberg and Joy Behar. But co-host Sara Haines argued that it's "always okay" to "question" and "challenge" election results.

After playing a soundbite of Fox News White House correspondent Peter Doocy pressing Jean-Pierre on her election denialism tweets, Goldberg defended the Press Secretary by saying it didn't count because "she was not an elected official."

Goldberg also declared that Jean-Pierre "was doing her part as an American citizen saying how she felt about an election. Whether you like it or not, everybody talks about everybody has the right [to] freedom of speech."

"Doing her part?" What is this, Starship Troopers? Goldberg's argument itself was an exercise in hypocrisy as she and The View attacked and smeared Ginni Thomas, a private citizen who just happens to be married to Justice Clarence Thomas, for her past beliefs about the 2020 election.
That would be the same Ginni Thomas whose aggressive efforts to attempt to overturn the 2020 election -- something Jean-Pierre has never been accused of trying to do -- became so pervasive that even Fondacaro's fellow MRC co-workers stopped trying to defend her. Fondacaro also provided no evidence that Thomas' "beliefs" on the 2020 election are, in fact, "past."
If wouldn't be Fondacaro if he wasn't also spewing hate at Alyssa Farah Griffin for not being right-wing enough, so when she made an obvious point, he was enraged: ""Conservative" Alyssa Farah Griffin noted that Democrats like Speaker Nancy Pelosi (D-CA) and Hillary Clinton engaged in election denialism over 2016, but beclowned herself again by arguing what they did was 'a far cry from what Donald Trump did.'" Fondacaro didn't dispute the accuracy of Farah Griffin's statement.
Tim Graham devoted his Sept. 9 column to this non-controversy, rehashing Houck's and Fondacaro's posts to indict Jean-Pierre anew -- though he did GO THERE and mildly criticize Doocy for waiting so long to ask his biased question:
Jean-Pierre tried to call the comparison "ridiculous," that "I was talking specifically at that time of what was happening with voting rights and the — what was in danger of voting rights." That changes absolutely nothing. The hypocrisy remains. The only leg these liberals have to stand on is they didn't riot at the Capitol. They spent most of Trump's presidency treating him as a Russian-imposed fraud, but that's somehow not being a dangerous "election denier."

Conservatives quickly pointed out the obvious: if the press secretary had long anticipated this question, why was the answer so remarkably insufficient?

[...]

It's a rollicking part of our democracy that Democrats seek to keep their minority voters activated and lining up to vote by scaring them relentlessly about Republican conspiracies of "Jim Crow" voter suppression and even "they want y'all in chains," to quote Vice President Biden. The "independent fact checkers" fail to pounce and the Big Tech platforms won't squash them for "disinformation" and dangerous election-denier messaging.

Karine Jean-Pierre was only acting like every other cynical liberal playing this game. Doocy could have thrown this question at her when she took over for Jen Psaki in May. Her answer would have been just as lame then.
Meanwhile, Graham's MRC still promotes its version of Trump's Big Lie on the election being stolen from Trump. Talk about cynical game-playing.
This was followed by a Sept. 10 "flashback" post by Scott Whitlock rehashed her comments yet again, whining that "The revolving door between radical MSNBC analyst and Biden White House Press Secretary shows just how little difference there really is between the two leftist outfits." He won't mention the revolving door between the MRC and Fox News.
Posted by Terry K. at 7:33 PM EDT
Updated: Sunday, September 25, 2022 10:20 PM EDT