WND Promotes Bogus Anti-Climate Change Petition
Topic: WorldNetDaily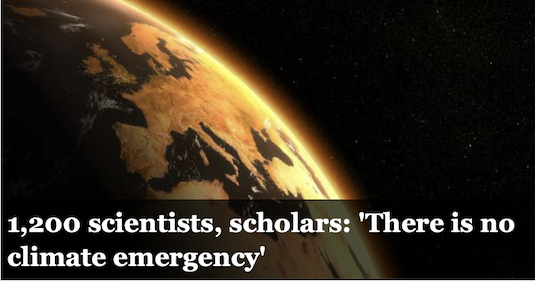 WorldNetDaily's Art Moore wrote in an Aug. 18 article:
Led by a Nobel Prize laureate, more than 1,100 scientists and scholars have signed a document declaring climate science is based more on personal beliefs and political agendas than sound, rigorous science.

The World Climate Declaration states climate science "should be less political, while climate policies should be more scientific."

"Scientists should openly address uncertainties and exaggerations in their predictions of global warming, while politicians should dispassionately count the real costs as well as the imagined benefits of their policy measures," the declaration reads.

The declaration was organized by Climate Intelligence, an independent policy foundation founded in 2019 by Dutch emeritus professor of geophysics Guus Berkhout and Dutch science journalist Marcel Crok.
Unsurprisingly, there's a lot that Moore is not reporting just in these first few paragraphs. As a fact-checker found, the "Nobel Prize laureate" in question, Ivar Giaever -- whom Moore doesn't otherwise refeence in his article -- won for his work on superconductors, not climate science; Beruhout and Crok, meanwhile, have been accused of taking money from fossil-fuel interests, indicated paid bias on their part. Further, most of the signatories to the petition are political activists and scientists who have no connection with climate science. As another commentator noted, "Looking at the list of signatories, there are a lot of engineers, medical doctors, and petroleum geologists and almost no actual climate scientists."
Also note the stealth edit: While the headline originally claimed 1,200 signatories -- as shown by the original front-page promo art and the URL -- it was changed along the line to state there were "more than 1,100," That's because, according to the fact-checker, the actual number of signatories was 1,107. Weird how Moore descided to make that edit for accuracy but clearly never fact-checked anything else in his piece.
Moore continued to uncritically repeat the anti-climate change talking points:
The World Climate Declaration points out that since emerging from the Little Ice Age in the mid-19th century, the world has warmed significantly less than predicted by the U.N.'s International Panel on Climate Change's models

"The gap between the real world and the modeled world tells us that we are far from understanding climate change," the WCD states.

The declaration argues Earth's climate has varied, with cold and warm periods, for as long as the planet has existed, and it is "no surprise that we are experiencing a period of warming."

The climate models "are not remotely plausible as global policy tools," ignoring, for one, the benefits of carbon dioxide, which is "not a pollutant."

"It is essential to all life on Earth," the declaration says. "Photosynthesis is a blessing. More CO2 is beneficial for nature, greening the Earth; additional CO2 in the air has promoted growth in global plant biomass. It is also good for agriculture, increasing the yield of crops worldwide."
In fact, climate models have proven to be largely accurate; one study examined 17 climate models and found "14 out of the 17 model projections indistinguishable from what actually occurred." Observers also exposed the talking points Moore is mindlessly repeating for the denialist tropes they are:
The World Climate Declaration doesn't just attack climate modeling. It also rehashes several well-known "climate denial" tropes that have long been used in persuasion campaigns that were often traced back to the fossil fuel industry and other players who benefit from unfettered industrial development, said Brendan DeMelle, executive director of Desmog, an investigative climate research organization.

Those tropes include downplaying the role of humans in causing rapid climate change by suggesting natural causes are as much or more of a factor, sowing unfounded doubt in the sciences and implying researchers are pursuing nefarious motives, suggesting that increased CO2 levels in the atmosphere are actually a "good thing" because they help nurture the growth of plants, claiming that global warming doesn't actually impact the frequency and intensity of natural disasters and suggesting that addressing climate change is incompatible with economic stability.
Moore won't tell you this because it conflicts with WND's right-wing editorial agenda, even though refusal to report all relevant sides of a story means Moore is a propagandist, not a journalist. But then, propaganda and not journalism is pretty much the point of WND these days.
Posted by Terry K. at 5:59 PM EDT