CNS Unemployment Coverage Distortion Watch, Lack Of Distortion Edition
Topic: CNSNews.com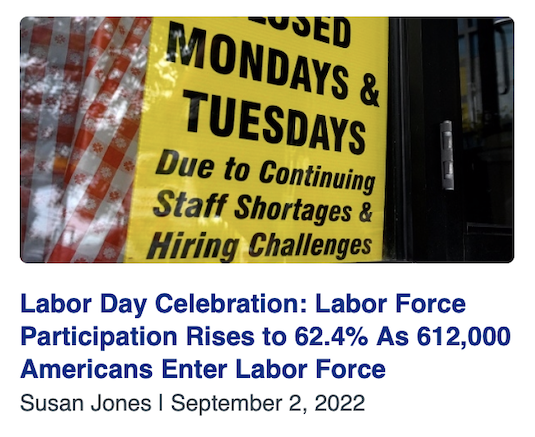 In an about-face from the previous month, the headline of Susan Jones' CNS lead story on August's employment statistics actually matches the copy -- and the news was so good that even Jones couldn't quite figure out a way to downplay it:
Heading into Labor Day, the U.S. Labor Department on Friday issued a mostly positive report on the U.S. employment situation -- the unemployment rate rising to 3.7 percent in August from 3.5 percent in July; but the labor force participation rate also rising three-tenths of a point to 62.4 percent, a move in the right direction, as 612,000 people entered the labor force.

The Bureau of Labor Statistics says the nonfarm economy added 315,000 jobs in August, below above the 526,000 (revised) added in July and in line with the 300,000 estimate for August. Notable job gains occurred in professional and business services, health care, and retail trade.

(In a separate report, BLS noted that the number of job openings was little changed at 11,239,000 million on the last business day of July.)

The unemployment rate increased two tenths of a percent, to 3.7 percent from 3.5 percent as the number of unemployed people -- no job but actively looking for one -- increased by 344,000 in August.

Notably, the number of employed Americans also climbed by 442,000 in August to 158,732,000, a Biden-era high and close to the Trump-era high of 158,866,000 set in February 2020, the start of the COVID pandemic.
So to fill out her story, Jones wrote a section on "price stablity" -- a completely separate subject from employment -- highlighting how Federal Reserve Chairman Jerome Powell "warned that inflation reduction -- what the Fed calls 'price stability' -- will be painful."
Either because the numbers came out on a holiday weekend or because CNS didn't want to report any more good news about a Democratic president, this is the only story on August's numbers; editor Terry Jerry couldn't be moved to contributte his usual sidebar on manufacaturing jobs -- perhaps because they increased by 22,000 in August.
Posted by Terry K. at 1:45 AM EDT