The MRC's Hypocritical Tolerance Of Trucker Convoy, Part 2
Topic: Media Research Center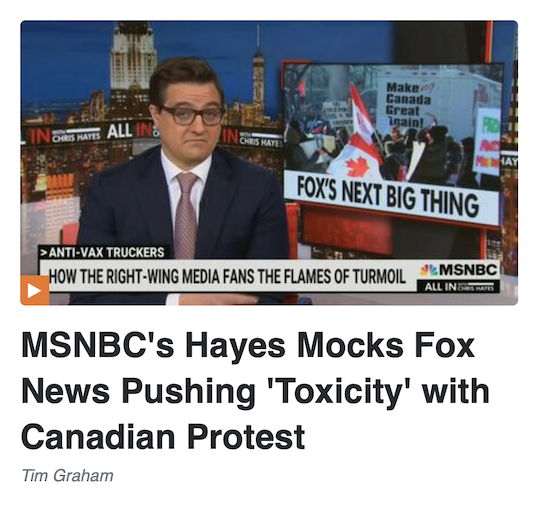 We showed how the Media Research Center was an early supporter of the trucker convoy in Canada -- even though the disruptive and occasionally violent protest tactics the truckers used were deplored by the MRC when used by non-right-wing activists. The MRC maintained that support throughout the protest.
In a Feb. 8 post, Curtis Houck claimed to be alarmed that White House press secretary Jen Psaki noted evidence that the truckers were getting help from right-wingers in the U.S.: "The horror! She made it seem like conservatives are a cabal that could have a tunnel network to Canada, envelopes filled with money, disguises, and all the bells and whistles."When a reporter asked Psaki about whether the Biden administration would look further into that aid, Houck screeched that this was a "call to prosecute political dissent" that was "insanity."
Nicholas Fondacaro complained in a Feb. 9 post:
CNN's anti-Freedom Convoy correspondent Paula Newton was at it again Wednesday as she desperately tried to smear the peaceful Canadian protest against their COVID restrictions. In reports throughout the day, Newton suggested that they should be feared and were a threat to the country. She even suggested that their "civil disobedience" can't be "tolerated" because "what can happen next?"
Fondacaro added the MRC's approved whataboutism talking point: "This is the same CNN that supported the Black Lives Matter Riots of 2020 and dubbed them "FIERY BUT MOSTLY PEACEFUL." They also didn't have an issue with the Capitol Hill Autonomous Zone (CHAZ) in Seattle, Washington where people were being killed." He didn't mention that just a few days earlier, his MRC colleague Houck unironically repeated a description of the the convoy protest as "mostly peaceful."
Tim Graham described his Feb. 9 podcast on the protests this way, summarizing all the support and whataboutism:
The liberal media have been truly hostile to Canadian truckers protesting vaccine mandates with a convoy in Ottawa. You can feel their mood when they call it the "so-called Freedom Convoy," as so-called objective networks do. Canada's socialist prime minister Justin Trudeau acts like these are the worst Canadians imaginable.

But that's not the worst of it. American networks have called the trucker resistance an "insurrection" and touted [left-wing] locals saying they're being held "hostage" by protests. They suggested the protests were populated by Nazis, Q-Anon, and Confederate flag-wavers, and repeated claims protesters stole food from the homeless. It's been a real hatchet job. Even the "independent fact checkers" lined up against them.

They even panicked that the Canadians had hot tubs, pizza ovens, and Plinko games. The contrast with American protests, like the "Autonomous Zone" in Seattle in 2020, is stunning. The networks then said these were the most peaceful protests imaginable....even as rapes and murders happened.

You can tell that liberals think that protests are Their Thing, and that when conservatives protest, it's somehow a frightening attack on democracy!

Clay Waters served up some of the same whataboutism in yet another attack on the New York Times for its coverage of the protest in a Feb. 10 post:
The Canadian trucker protest in Ottawa against vaccine mandates and overzealous Covid restrictions is certainly not getting the fawning Black Lives Matter treatment from The New York Times. Tuesday's front-page story was crammed with contempt for the protesters, smeared for allegedly committing the same sort of acts that BLM protesters did during the often violent nationwide protests after the police killing of George Floyd in Minneapolis in the summer of 2020: Theft, disruption, and "desecration" of statues.

[...]

The reporters had to admit the "festive" atmosphere in Ottawa, before switching back to condemnation that "[m]any Ottawa residents are besides themselves."

Strange, how The Times never cared about how city residents felt about noise and closures that resulted from mob violence during the Floyd protests of 2020.

The ​​​​​​​Times is also suddenly against vandalizing statues, though on Tuesday it ran a story that approved of destroying a statute of a British slave-trader.
The same day, Kyle Drennen served up his own whataboutism:
During a softball interview with Homeland Security Secretary Alejandro Mayorkas aired on Thursday's CBS Mornings, the broadcast network treated Canadian truckers protesting draconian COVID regulations like terrorists and fretted to the Biden cabinet official that the demonstrators posed a "potential security threat" to the Super Bowl. Meanwhile, the ongoing out-of-control crisis at the U.S. southern border was completely ignored.
When CNN contributor pointed out that the truckers were delilberately disrupting international commerce by blocking border crossings between Canada and the U.S. and suggested solultions to shutting down such an illegal protest, Fondacaro screamed that she was a PSYCHO":
Harvard professor, former Obama DHS official, and CNN national security analyst, Juliette Kayyem was channeling some real Carrie Underwood energy (Before He Cheats) as she took to Twitter Thursday to lash out at the Canadian Freedom Convoy, demanding that Canadian authorities "slash" their tires and "empty the tanks" then somehow "move the trucks." And as she deserved, Kayyem was called out and ridiculed for it.

Kayyem began her rage-fest by whining about the truckers getting support from "right wing [sic] media" and suggesting the truckers were a threat to American national security. "The Ambassador Bridge link constitutes 28% of annual trade movement between US and Canada. Slash the tires, empty gas tanks, arrest the drivers, and move the trucks," she wrote.
Instead of offering logical arguments against her, Fondacaro huffed that she was filled with "toxic elitism" and "petty authoritarianism." As if blocking border crossings is somehow elitism and authoritarianism?
Alex Christy got bent out of shape over CNN's John Avlon noting that the protester "constitute a 'right-wing Trucker tantrum' supported by Americans who hypocritically call themselves pro-life" and are seeking "special exemption from public health laws."Christy grumbled in response that Avlon wasn't "taking time to consider that maybe public health laws need to change or that one-size-fits-all rules are not necessary" and non-scientifically insisted that a vaccination rate of 75 percent was sufficient: "With so many vaccinated, there is no justifiable reason to keep emergency measures in place." Of course, that still means 25 percent of the population isn't vaccinated, giving plenty of room for COVID to spread; most people who died from catching the Omicron variant were unvaccinated.
Graham tried a weird bit of whataboutism in a Feb. 11 post:
At the end of Thursday's All In on MSNBC, host Chris Hayes mocked the Fox News Channel for promoting Tea Party rallies in 2009, and then he compared that to promotional coverage of the Canadian Freedom Convoy. He protested it as a "Truly incredible display of the unique role that one network plays in American political life. For many years, Fox News has been operating this flatly propagandistic fashion."

It might be fair to suggest it's funny to promote an occupation of an urban area when it's Canada and then oppose it with say, Occupy Wall Street. But Hayes seems oblivious to the idea that when the shoe was on the other foot in 2011, it was his company doing the "flatly propagandistic" stuff, like " Slow Jam The News: Fallon And Brian Williams Make Occupy Wall Street Sexy."
That's the comparison Graham is going to make? Really? No wonder the MRC keeps losing credibility.
Posted by Terry K. at 10:02 PM EDT