Dishonest Catholic Donohue Lets His Homophobic Flag Fly
Topic: CNSNews.com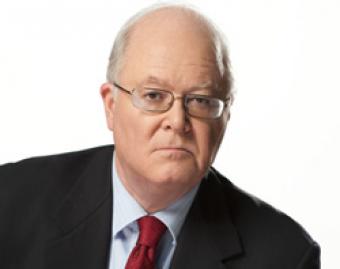 Dishonest Catholic Bill Donohue has expanded from his usual brand of homophobia -- falsely blaming them for clergy sex abuse scandals in the Catholic Church -- to a more generalized form. In his Feb. 7 column, Donohue decided that the reason COVID vaccination rates are lower among those with HIV, according to a CDC study, is because they are "irresponsible" because, duh, they're gay and they have HIV:
The CDC says that LGBT individuals "historically experience challenges accessing, trusting, and receiving health care services."

Nowhere do the multiple authors of this study suggest that it is the behavioral choices made by those who engage in risky sexual activities that accounts not only for their HIV status, but for the prevalence of their comorbidities.

[...]

Nowhere do the authors suggest that it is the irresponsible behavior that marks a disproportionate segment of the LGBT community that accounts for the health disparity.

The CDC has not hesitated to recommend draconian lockdowns to combat COVID, and it certainly hasn't hesitated to recommend restrictions on houses of worship. Why, then, does it not exercise the same aggressive policy recommendations when it comes to LGBT people?

Once again, the CDC is showing that politics counts more than science in driving its conclusions. It also shows that the ruling class has a problem treating sexual minorities as equals, the same way it has a problem treating racial minorities as equals.
In fact, the study states that vaccination coverage is lower among younger patients, those who are not white, those who had not achieved viral suppression and those who had not received care. The study went on to state that "Unmeasured factors, including socioeconomic status, might further explain the lower COVID-19 vaccination coverage among" those living with HIV.
But Donohue hates gay people, so the facts don't matter to him.
Donohue spent his March 1 column defending the Staten Island St. Patrick's Day parade for barring LGBT people from participating:
Staten Island's St. Patrick's Day Parade is the last of the big New York City parades of this kind to remain true to its heritage. Unlike the other St. Patrick's Day Parades, which have turned the march into an inclusion event, the Staten Island contingent remains resolute in exclusively honoring St. Patrick.

The last time the Catholic League marched in the most heralded of St. Patrick's Day Parades — the one up Fifth Avenue — was 2014. I pulled our group in the fall of that year from forever marching again after I was lied to by parade officials.

[...]

News Flash: The St. Patrick's Day Parade is a celebration of St. Patrick. Period. Those who truly believe in diversity should defend the right of every legitimate demographic group to determine their own parade strictures.

The intolerance of gay activists, and their straight supporters, shoving their way into these parades is stunning. They have their own parade, but that is not enough. As always, they have to draw attention to their master status, which is their sexual identity, not their ethnicity or religion.
Of course, Donohue is showing his own intolerance by cheering the exclusion of a group agaisnt which he is paid well to hate for a living.
Donohue's March 10 column was a letter he wrote to Twitter CEO Parag Agrawal complaining that Twitter had suppended the account of a Missouri political candidate who claimed that transgender women are "men pretending to be women," adding: "Telling the truth can be painful, but as Catholics we are called to do so."
Donohue thinks he's "telling the truth," but all we see is his vicious hatred for anyone who doesn't act or think exactly like him.
Posted by Terry K. at 12:28 AM EDT
Updated: Thursday, August 18, 2022 10:50 PM EDT