WND Defends Joe Rogan And His COVID Misinformers
Topic: WorldNetDaily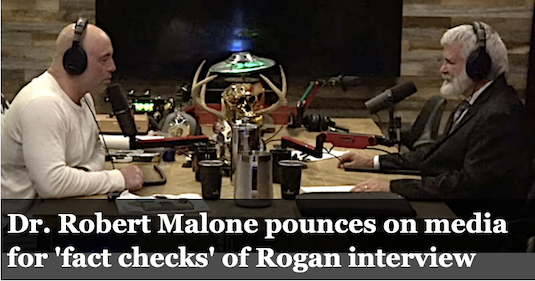 WorldNetDaily has long loved prolific COVID misinformers Robert Malone and Peter McCullough, so when podaster Joe Rogan got in trouble for having them on and letting them spread their misinformation unchallenged, WorldNetDaily became a fan.
WND's Art Moore first promoted their appearances on Rogan's show -- and helped them play victim. Moore declared that Rogan's interview with McCullough "would not have been allowed on YouTube," and he used a Dec. 31 article to hype Malone's "highly anticipated interview with No. 1 podcaster Joe Rogan," which came after Malone was suspended from Twitter for spreading COVID misinformation. Mooire never mentioned all the misinformation spread by both McCullough and Malone during their Rogan interviews.
When Surgeon General Vivek Murthy called Rogan spreading misinformation, Moore wouldn't admit they misinformed anyone in a Jan. 25 article:
The surgeon general of the United States believes Joe Rogan's top-rated podcast should be censored because of its interviews with prominent health scientists who come to conclusions based on assessments of data and studies that contradict some of the evolving stances of the Biden administration.

[...]

Rogan had two blockbuster interviews in December, drawing more than 40 million views in a nearly three-hour conversation with renowned cardiologist and highly published scientist Dr. Peter McCullough. And his show has garnered more than 50 million in a longer interview with Dr. Robert Malone, inventor of the mRNA technology on which the Pfizer and Moderna vaccines are based.
Moore remained in denial about COVID misinformation in a Jan. 31 article noting Rogan's backpedaling after days of criticism:
The controversy over Joe Rogan airing a total of nearly six hours of conversation with two highly educated and accomplished health scientists whose views contradict the evolving government and establishment media narrative on COVID-19 opened a new chapter Monday, with the No. 1 podcaster pledging to do his best to group together interviews with people who have opposing opinions.

Rogan's 10-minute video on Instagram has been interpreted in various ways, including as an apology for spreading "misinformation" arising chiefly from an interview with Dr. Peter McCullough that drew more than 40 million views and another with Dr. Robert Malone that garnered an additional 50 million.

But Rogan -- while acknowledging what his platform Spotify has had to suffer financially with the withdrawal of the music of Neil Young and Joni Mitchell in protest of his interviews -- made it clear he has a problem with how the term "misinformation" is being used.

He pointed out that "many of the things we thought of as misinformation a short while ago is now thought of as fact." They include claiming people can catch COVID-19 vaccination, saying cloth masks don't work and suggesting it's possible the pandemic originated in a lab in China. Previously, those statements, which are now accepted, got people removed from social media platforms, he pointed out.
As we noted when the Media Research Center similarly repeated Rogan's remarks without fact-checking them, there's still plenty of evidence that discredits the lab-leak theory, and cloth masks do, in fact, have a level of effectiveness, though not as good as N95 or KN95 masks.
Moore then weirdly quoted someone going full George Costanza by claiming that Malone and McCullough can't possibly be misinforming anyone because they don't believe they're serving up misinformation:
Prominent science writer and agnostic Michael Shermer, known for his collegial debates with believers in God, said the claim that Rogan and his guests are "intentionally spreading misinformation" is wrong.

"They don't think what they're saying is misinformation — They think they have a valid point," he wrote on Twitter. "They may be wrong but that's different. Instead of accusing them of lying, explain why facts say otherwise."
Moore devoted a Feb. 6 article to Moore "challenging a 'fact check' of some of his statements by a reporter for Britain's Daily Mail." Malone, to our knowledge, has not challenged the fact-check issued by Health Feedback, which is focused on medical misinformation and is much more comprehensive.
Meanwhile, WND columnist Michael Brown -- who suffers from wishy-washiness on the issue of COVID despite having suffered through a bout of it himself -- felt the need to weigh in on Rogan in his Feb. 7 column. He started by issuing a pass because "Rogan himself does not seem to be an ideologue" -- in fact, his guest list leans unambiguously right -- who "seems to be more focused on having interesting conversations with a wide range of guests, learning for himself as he goes." He added, "This was Joe Rogan being himself, and that meant following the evidence where he thought it led." Brown then tried once again to both-sides the issue:
Since Rogan's podcast is front and center in the news today, and since he has a massive viewing and listening audience, why not use the show to host a debate/discussion between two of the most articulate voices on either side of the COVID-vaccination debate? Or perhaps even host several debates (at least two), allowing each side to present its case and respond to challenges.

The discussion would not be about the mandates, which are often opposed even by strong vaccination advocates. The discussion would address the safety or efficacy of the vaccines and the wisdom of our current health policies.
He went on to suggest that Malone be a guest for this debate, along with "a respected pro-vax professional." That's not likely to happen given Malone is not known for sharing the stage with anyone who might challenge him, which was probably a big reason he appeared on Rogan's show in the first place.
Posted by Terry K. at 5:18 PM EDT
Updated: Tuesday, March 15, 2022 5:28 PM EDT