Bad Journalism The CNS Way
Topic: CNSNews.com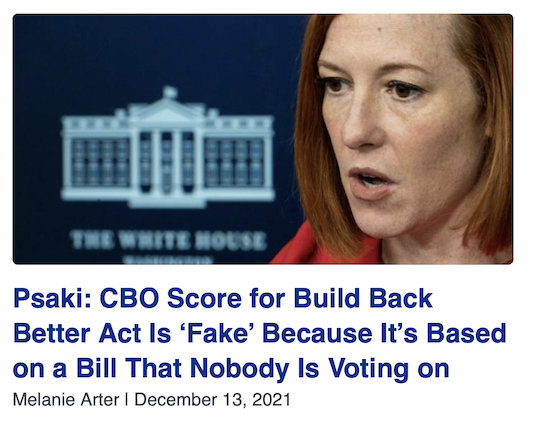 CNSNews.com likes to pretend it's a "news" organization, but it's really a conservative talking-points enforcer with occasional stabs at "balance" to keep up the pretense of balance. We can show this with an example of both that add up to a textbook example of bad journalism. First, we have a Dec. 13 bit of stenography from Susan Jones, to the point where she just copied-and-pasted part of a direct transcript:
Democrats have put a $1.75 trillion price tag on their "Build Back Better Act," which they insist is "fully paid for."

No, it's not, Sen. Lindsey Graham (R-S.C.) told "Fox News Sunday." He pointed to a Congressional Budget Office estimate that says the entitlement programs established in the bill, if they run for ten years instead of just two or three, would cost close to $5 trillion:

Democrats, to bring down the cost of their social agenda bill, gave some of the entitlement programs a short shelf life, fully anticipating that once established, they will never go away.

"President Biden said the bill was fully -- fully paid for," Graham said on Sunday:

Vice President Harris said it was paid for. Schumer, Pelosi, Secretary of Treasury Yellen. The CBO says it's not paid for. It's $3 trillion of deficit spending. It's not $1.75 trillion over 10 years, it's $4.9 trillion.

What does this mean? The House should re-vote. The vote in the House was based on a fraud. This bill doesn't cost $1.75 trillion, it costs almost $5 trillion. It doesn't add $300 billion to the deficit, it adds $3 trillion.

There is not a plan to pay for it. If there is, I missed it. So, give it to me. Give it to the American people. Before we vote in the Senate, show me how you pay for this bill.

And you know why I wrote a letter to CBO, because Joe Manchin came to me and he said, I think this bill is full of gimmicks, that these programs won't go away, Lindsey, and if you score them for 10 years, I think the bill will double. Well, it didn't double, it was almost 2.5 times.

So, I hope that this will be a showstopper for Build Back Better.
Since this was stenography, Jones made no effort to fact-check anything Graham said.
More than 11 hours later, CNS published an article by Melanie Arter -- again stenography, but stenography that blows up Jones' article:
White House Press Secretary Jen Psaki called the CBO score for President Biden's Build Back Better Act "fake," because it's based on a modified version of the bill ordered by Sen. Lindsey Graham (R-S.C.) that shows how much it will cost over a period of 10 years if its provisions were made permanent.

"The president says that Build Back Better won't add a penny to the deficit. The CBO has this new score where they assume social programs are going to be made permanent, and in that case, it would add $3 trillion. Does that mean that President Biden will commit that these programs won't be made permanent?" Fox News White House Correspondent Peter Doocy asked.

"What we're talking about here is a fake CBO score that is not based on the actual bill that anybody is voting on. This was a ask request by Senator Graham to score a bill that is not currently being debated," the press secretary said.

"That is his prerogative to do, but what our focus is on is on the existing bill that will lower the deficit, that will also over an additional 10 years pay for the $2 trillion tax cuts that Republicans didn't pay for. They're welcome for that," Psaki said.

"So I would say, Peter, to your question, the president has conveyed very clearly, multiple times publicly that he would like programs if they're extended to be paid for," she said.

<"That remains his commitment, but it's important to understand that when you-- when anybody raises a question about this new CBO score. It is a fake score about a bill that doesn't exist, and we should really focus on the actual bill everybody's going to vote on and considering in Congress right now," Psaki added.
Jones deliberately obfuscated about what Graham did, potraying his CBO estimate as legitimate when it's not (and even obscuring the fact that Graham had sought that estimate). And for all of Arter's stenography, she didn't link to or even reference her colleague's article in which she uncritically repeats Graham's deceptive attack on the bill.
This is bad journalism -- pro-Repubican stenography is unchallenged, and Arter's window-dressing stenography doesn't exactly undo it. But then, if it wasn't for bad jouranlism, there really wouldn't be any journalism at CNS.
Posted by Terry K. at 1:21 AM EST