How Has The MRC's War Against Facebook Been Failing Lately? (Part 2)
Topic: Media Research Center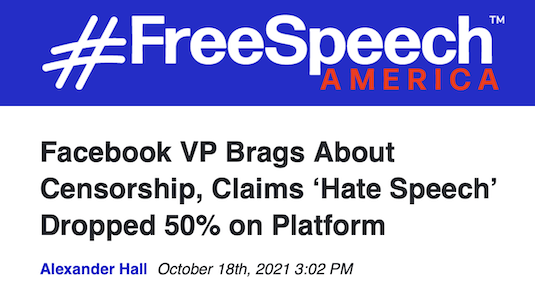 It's time to play more catch-up on the Media Ressarch Center's flailing efforts to bash Facebook, now advancing into September and October.
A Sept. 23 post by Alexander Hall complained that Facebook wanted to improve the quality of its news feed:
Facebook openly announced its plans it uses to demote content, but at least it's attempting to be transparent about the process. Right, Facebook?

The release said it was "to share more detail on how content is distributed on Facebook." But, in reality, it was about how content is not distributed on Facebook. All for the Facebook offense of being "problematic" or of "low quality."

Facebook — not users — decides what content is important or high quality in its News Feed.
Hall went on to complain that "Facebook has interfered with user News Feeds before, especially around elections," going on to cite its well-worn complaint about it disabling links to the New York Post's dubious October surprise over Hunter Biden before the 2020 election. Nor did he explain why a private business did not have a right to improve the product it offers to its customers.
Autumn Johnson offered a similarly themed complaint in an Oct. 13 post:
According to The Intercept, Facebook has a secret blacklist of "dangerous individuals and organizations."

The article explained the list was created to bar "users from speaking freely about people and groups it says promote violence."
Again, Johnson didn't explain why this was a bad thing.
Hall returned on Oct. 18 to huff that Facebook cracking down on "so-called hate speech" was also a bad thing:
Facebook has run right back to censorship gaslighting after having taken a metaphorical beating in the liberal press and from the Hill in recent weeks. The platform has let the world know that it has cracked down on so-called "hate speech" with extreme prejudice.

Facebook released a devastating report about censorship on its platform — a bad omen for those who care about freedom of speech. "Our technology is having a big impact on reducing how much hate speech people see on Facebook," Facebook VP of Integrity Guy Rosen explained in an Oct. 17 report. "According to our latest Community Standards Enforcement Report, its prevalence is about 0.05% of content viewed, or about 5 views per every 10,000, down by almost 50% in the last three quarters."
Hall then tried to explain why this was somehow a bad thing by attempting to potray the MRC as a victim:
Facebook's history with content moderation is problematic at best. The platform has allowed its leftist-funded International Fact-Checking Network appointed fact-checkers to penalize conservative content that is demonstrably true.

For example, PolitiFact came after the Media Research Center (MRC) for citing a graphic first released by the CDC. PolitiFact tried to combine three fact-check categories into one. It failed to note its issue as one of context, and chose to instead label the entire graphic as "FALSE," but called it "partly false information" on Facebook.
But as we documented, the CDC data was incomplete and, thus, did not support the partisan (and, in retrospect, false and dangerous) point it was trying to claim, that the Delta variant of COVID was nothing to worry about.Facebook was correct to flag the MRC's bogus graphic.
Hall devoted an Oct. 25 post to touting a Wall Street Journal article attacking Facebook:
Facebook management have reportedly been locking horns with their radical far-left workers over how far they can go to censor conservative speech online.
It's Facebook's worst nightmare as the platform's internal debates over purging conservative outlets and the sinister tools to censor them were exposed in a recent Wall Street Journal report. The Journal reportedly revealed one scandalous internal conversation calling for Breitbart News to be removed from the News Tab on the platform: "Get Breitbart out of News Tab," said an employee. The conversation condemned multiple straightforward headlines from Breitbart about rioting for allegedly "[painting] Black Americans and Black-led movements in a very negative way," with many Facebook workers reportedly agreeing.

An employee working on the Facebook Audience Network also reportedly rationalized censorship as an ethical responsibility. "My argument is that allowing Breitbart to monetize through us is, in fact, a political statement," said the employee, according to The Journal. "It's an acceptance of extreme, hateful and often false news used to propagate fear, racism and bigotry."
At no point did Hall dispute the Facebook employee's alleged description of Breitbart as peddling "fear, racism and bigotry," which means he's portraying that as mainstream conservative content. And he censored the fact that the Journal report also stated that "The documents reviewed by the Journal didn't render a verdict on whether bias influences its decisions overall," and that it also found that Facebook employees were "alleging that Facebook is giving the right-wing publishers a pass to avoid PR blowback." Instead, Hall pushed a claim elsewhere in the article that Facebook managment feared that cracking down on far-right content would be seen as, in Hall's words, "verified proof of anti-conservative sentiment or censorship within the company."
Nevertheless, the MRC loved the Journal story so much that its "Editor's Pick" that day was a writeup of the article at right-wing website RedState.
Posted by Terry K. at 10:25 PM EST
Updated: Thursday, January 20, 2022 12:37 AM EST