How Has The MRC's War Against Facebook Been Failing Lately?
Topic: Media Research Center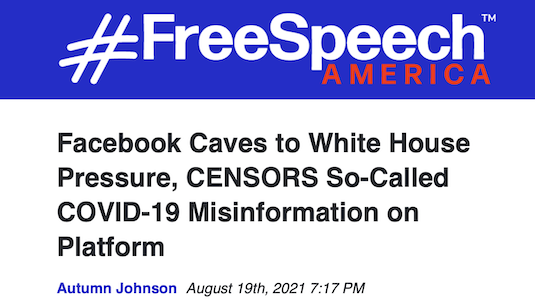 It's been a while since we last checked in on the Media Research Center's failing war against Facebook -- a war that's failing because it clings to its discredited talking point that Facebook is exclusively "censoring" conservatives solely because they post things in the conservative mainstream. (That faulty narrative has forced the MRC to mainstream many right-wing extremists as garden-variety conservatives.) We've shown how the MRC is lashing out at Facebook whistleblower Frances Haugen for no real reason other than she's not an exreme right-winger like the "big tech" whistleblowers it has showered attention on in the past and that her criticisms have gotten more traction than anything the MRC has done. Let's go back to late July and August to see how that war has continued to fail.
Alexander Hall devoted a July 28 post to complaining -- under the ridiculously alarmist headline "Free Speech Armageddon" -- that Facebook had added another fact-checker called Meedan to focus on health misinformation: "Censorship incoming? Facebook makes a massive partnership with a leftist-supported organization to assist its so-called fact-checking about COVID-19 vaccines." He went on to issue personal attacks on Meedan personnel, including one board member who he claims "is part of a group of leftwing activists who created a pretender Facebook Oversight Board urging far more stringent censorship for Facebook."
On Aug. 6, Hall took a pro-censorship viewpoint (since said censorship makes conservatives look somewhat better than they would otherwise): "Leftists are furious that Facebook disabled research accounts analyzing the 'spread of misinformation on the platform,' according to Cybersecurity for Democracy. The real furor is because the left uses 'misinformation' as a synonym for conservative content they are desperate to censor." Hall offered no evidence to back up his claim that that the data was used only by "the left" to "censor" conservatives.
Putting "misinformation" in scare quotes or dismissing it as "so-called" is another way the MRC pushes its victimization narrative. That theme continues in later posts.
Gabriela Pariseau used an Aug. 17 post to rant: "Members of Facebook's Oversight Board revealed that the board prefers to operate under the guideposts of globalism and so-called consistency — not American values enumerated in the First Amendment." Why? Because "the Facebook Oversight Board's priorities lie in alleged consistency and globalism rather than the American values of free speech and free expression." Pariseau declined to admit that the First Amendment offers no protection to misinformation and lies.
Autumn Johnson pushed a government-facebook conspiracy in an Aug. 19 post:
Facebook is taking action after pressure from the White House. The Biden administration blamed the platform for the majority of coronavirus "misinformation."

The news comes after the White House blamed accounts on the platform for spreading misinformation.

"There's about 12 people who are producing 65% of anti-vaccine misinformation on social media platforms," White House Press Secretary Jen Psaki said.
Johnson offered no evidence that any "pressure" from the White House directly led to Facebook taking the action, despite going on to claim that "Some argue pressure from the federal government should classify Big Tech social media platforms as 'state actors.'" That list of 12 people who spread COVID misinformation, by the way, came from the Center for Countering Digital Hate, which the MRC impotently attacked a couple months later for putting it on a list of groups that misinform about climate change.
Johnson
returned to complain
on Aug. 26:
Facebook is reportedly creating an election commission to weigh in on political affairs across the globe, according The New York Times.

The commission is expected to be announced just in time for the 2022 midterm elections in the United States. It seems that Facebook wants to use the commission to make decisions about the content it chooses to allow on the platform in an effort to shield itself from criticism.

Facebook has been in the sights of both liberals and conservatives in recent weeks for its content moderation decisions.
Johnson went on to claim that "Facebook's alleged fear of looking bad to the left and its media allies shouldn't go unnoticed," ciring the infamous "poll from the Media Research Center, conducted by McLaughlin & Associates, shows 36 percent of Biden voters were NOT aware of the evidence linking Joe Biden to corrupt financial dealings with China through his son Hunter." Johnson failed to disclose that McLaughlin was Trump's election pollster, throwing doubt on the poll's accuracy and impartiality.
An Aug. 31 post by Pariseau featured her boss, Brent Bozell, whining that Facebook's plan to "reduce political and news content in its News Feed" will "disproportionately" affect conservatives. Johnson went on to inadvertently debunk the MRC's narrative that conservatives are victimized and "censored" on Facebook:
Bozell's criticisms are not unfounded. Facebook wrote a blog last year that showed which Facebook pages generated the most engagements on posts that included links during the week of Oct. 23 through Oct. 29, 2020. The blog post showed that three of the top five pages and six of the top 10 pages included prominent conservatives, news organizations and groups including: Dan Bongino, Fox News, Breitbart, Ben Shapiro, USA Patriots for Donald Trump and Donald Trump for President. The Twitter account Facebook's Top 10 shows that the weekly trend has similarly continued to the present.
The MRC itself has bragged about how well its content does on Facebook, which also undermines its narrative.
Posted by Terry K. at 9:53 PM EST
Updated: Monday, January 17, 2022 9:58 PM EST