CNS Unemployment Coverage Distortion Watch
Topic: CNSNews.com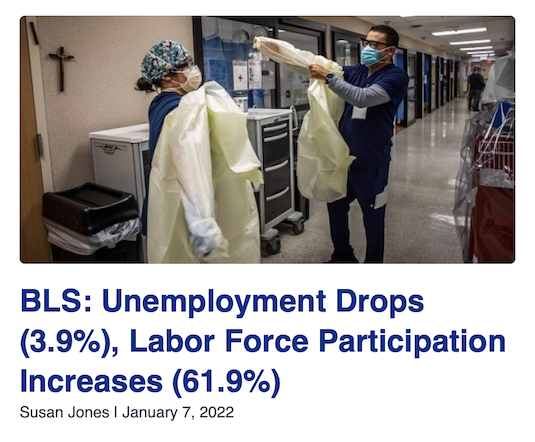 The unemployment rate keeps going lower, so CNSNews.com changed tactics a few months ago to attack President Biden: reviving its Obama-era attack of cherry-picking the labor force participation rate. Susan Jones did that once again in her article on December's employment numbers:
The Labor Department's final employment report of 2021, released on Friday morning, shows steady improvement since January a year ago.

But labor force participation remains a concern, as does the number of Americans counted as not in the labor force -- not working and not looking for work, for whatever reason. Those are just two of the Labor Department measures of economic health that have not rebounded to their pre-pandemic levels.

And notably, today's report does not fully account for the recent holiday omicron surge.
As she has throughout the past year of reporting on unemployment numbers, Jones made sure to give shout-outs, both explicit and implicit, to how great things were under Donald Trump before the pandemic started:
Last month's 3.9 percent unemployment rate is the lowest it's been since the 3.5 percent in February 2020.

[...]

The labor force participation rate reached a seven-year high of 63.4 percent in January 2020, the final year of Trump's presidency and just before the onset of COVID.
CNS didn't serve up its usual sidebars on government or Hispanic unemployment this time. Instead, it focused on promoting other attacks on the numbers. An article by Craig Bannister hyped Fox Business host Stuart Varney claiming that "December's numbers actually underestimate the weakness of the nation's job growth, because the harmful effect of the Omicron virus in the second half of the month is not factored in." Bannister followed that by writing what began as a press release for the Republican National Committee:
On Friday, while RNC Chair Ronna McDaniel declared December's Bureau of Labor Statistic (BLS) jobs report the worse of Joe Biden's presidency, Biden touted the positive records set during the full year of 2021.

Following Friday's release of the latest monthly BLS report, McDaniel issued a statement noting the disappointing level of job creation in December – and warning that the Biden Administration's ongoing efforts to force small businesses to fire unvaccinated employees will hurt employment:
Bannister copied-and-pasted several paragraphs from the RNC press release trashing Biden over the employment numbers, though he also repeated tweets from Biden and conceded that "there is, indeed, both good news and bad news in the latest employment picture."
Meanwhile, Melanie Arter went into stenographer mode to report that "President Joe Biden painted a rosy picture of Friday's jobs reports, calling it a 'historic day' for the economic recovery, despite adding less than half the number of jobs in December that analysts expected."
Posted by Terry K. at 1:15 AM EST