CNS Runs A GOP Press Release Disguised As A 'News' Article
Topic: CNSNews.com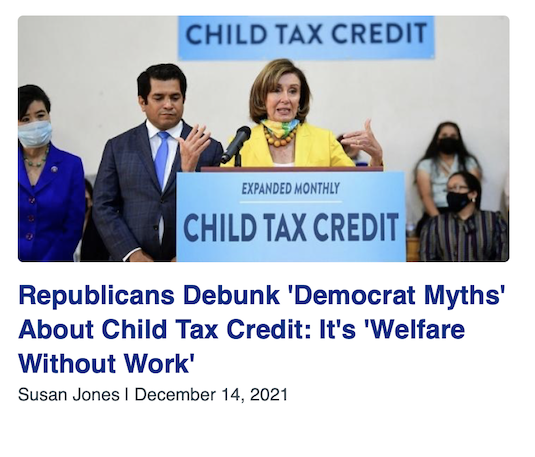 Susan Jones has long been a highly biased reporter for CNSNews.com. She took it to another level in a Dec. 14 article, in which she effectively wrote a press release for the Republican Party:
The Democrats' multi-trillion "Build Back Better Act" (BBB) includes a one-year extension of the Child Tax Credit program, which pays families up to $3,000 for every child ages 6-17 and $3,600 for every child under age 6.

Families get the money, depending on their income level and regardless of whether anyone in the family actually works and pays taxes.

BBB is currently stuck in the Senate, and unless it passes by year-end, the final Child Tax Credit payment will go out tomorrow, December 15.

Democrats are using the tax-credit expiration as an urgent reason to pass BBB, which includes most of their leftist agenda.

But Republicans on the House Ways and Means Committee say don't be fooled -- the child tax credit "has been turned into the largest welfare-without-work program in existence by President Biden and Congressional Democrats."

"Good jobs and rising paychecks do more to lift Americans out of poverty than dependence on never-ending government checks," Ways and Means Republicans said in a news release dated Dec. 13. "There are a number of factors contributing to poverty. Rewarding work and helping the poor become self-sufficient is the surest path out of poverty."
JOnes even directly copied-and-pasted several parapgraphs of those purported "myths and facts" from that GOP press release. To paraphrase Tim Graham of CNS' parent, the Media Research Center: CNS story? GOP press release? Who can tell?
Jones made a point of highlighting that "Committee Republicans note it was the GOP who doubled the Child Tax Credit to $2,000 in the Tax Cut & Jobs Act of 2017, a move that Democrats opposed at the time," but she buried the fact that it was lumped into a tax cut bill, and it was that, not the Child Tax Credit specifically, that Democrats opposed. She also didn't explain why the GOP effort to increase the Child Tax Credit wasn't also "welfare."
Any alternate viewpoint was buried in the final four paragraphs of Jones' 27-paragraph article, which quoted White House press secretary Jen Psaki discussing prospects for Democrats to pass a child tax credit. Jones allowed nobody to directly rebut the GOP attacks -- she's effectively an employee of the Republican Party, after all.
Posted by Terry K. at 7:59 PM EST