Newsmax Deals With Another COVID Controversy
Topic: Newsmax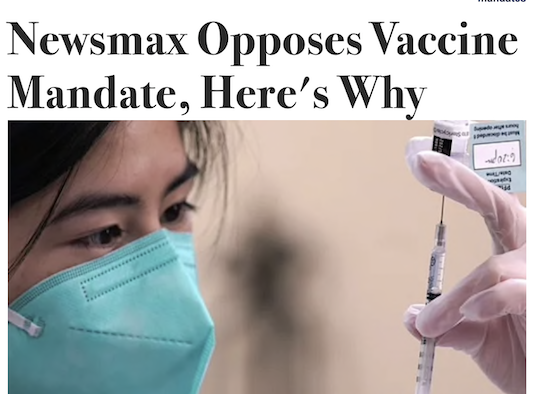 Emerald Robinson spouting bizarre, bogus conspiracy theories is the only COVID-related controversy Newsmax has had to deal within the past couple weeks.
Mediaite reported on Nov. 5 that Newsmax would institute a vaccine mandate for its employees -- either ger vaccinated or submit to weekly testing. That apparently didn't go over well there, where rage against vaccine mandates -- as mandated by right-wing narratives -- is a staple of Newsmax programming and content. Host Steve Cortes declared he would never comply with such "medical apartheid," and host Eric Bolling denied any such mandate was taking place.
In an effort to tamp down the controversy, Newsmax published an unsigned editorial on Nov. 7, a Sunday morning, in which it insisted that "Newsmax has no vaccine mandate nor do we require it for employment," but noted that it would follow federal law, which includes opt-outs for weekly testing, though they are "not good and probably illegal" as well as "a dangerous overreach of federal power." The editorial tried to find a place to stand on both sides of the issue, straddling a line between being reasonable while not abandoning the anti-vaxxers who make up a notable portion of its audience:
Even with no business mandate in effect today, both COVID cases and deaths are falling dramatically.

The vaccine, which has been demonstrated to be safe and effective, is clearly playing a role.

Newsmax has encouraged citizens, especially those at risk, to get immunized.

As a company we have seen first-hand how those at risk have suffered without the vaccine. In 2020, Newsmax lost its contributor Herman Cain due to the coronavirus.

And radio hosts like Dick Farrel, Phil Valentine, and Marc Bernier have all died as a result of not having taken the vaccine.

While the vaccine works, so does natural immunity.

Several studies show natural immunity provides even more protection than the vaccine.

The major media has berated us to "follow the science," but they ignore the science on natural immunity. Why?

And why are employees, for example, not given an exemption if they have strong antibodies?

At Newsmax we do not ignore the science nor the facts.

President Donald Trump provided the funding for the vaccine and cut through the red tape to see it implemented.

And Trump himself has been vaccinated. Publicly, he has encouraged others to receive the vaccine.

[...]

Government provides an opportunity, but an informed citizenry in a free nation should make its own health decisions.
That might sound reasonable if Newsmax hadn't given a platform to various and sundry COVID conspiracy theorists spouting misinformation. Newsmax knew it was playing with fire by publishing them but labeling the writer as a "non-clinician," but that doesn't fully absolve them from responsibility.
The editorial remained on Newsmax's front page for several days afterward, and according to the Washington Post, its TV hosts repeated the same party line on its shows, ultimately morphing the story into a "fake news" attack in which outslde forces were going after the channel.
Meanwhile, Newsmax may be getting around to solving its Emerald Robinson issue. Newsmax had at least temporarily taken her off the air after her COVID misinformation blew up; meanwhile, she continued to push misinformation on Twitter, which earned her a permanent ban from the platform. Mediaite is now reporting that Newsmax is not returning Robinson to her job but may retain her as an independent contractor.
Posted by Terry K. at 12:24 PM EST
Updated: Tuesday, November 23, 2021 3:04 PM EST