WND Promotes Another Coronavirus Conspiracy Theory
Topic: WorldNetDaily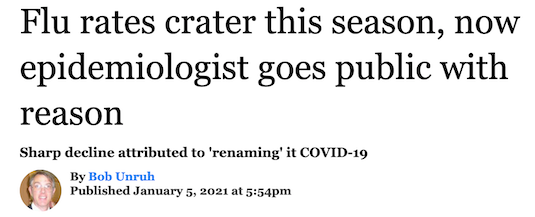 WorldNetDaily loves a good conspiracy -- and many bad ones. An example pf the latter surfaced in a Jan. 5 article by Bob Unruh:
The rate of influenza this season has cratered and now an epidemiologist is explaining why.

The Centers for Disease Control and Prevention said the cumulative positive influenza test rate from September through the middle of December was 0.2%, down from 8.7% a year ago.

"The weekly comparisons are even starker: This week one year ago, the positive clinical rate was 22%, where now it stands at 0.1%," reported Just the News.

So where has the flu gone?

Nowhere, explains epidemiologist Knut Wittkowksi. It's just being called something else.

"Influenza has been renamed COVID in large part," he said.

He's the former chief of biostatistics, epidemiology and research design at Rockefeller University.

"There may be quite a number of influenza cases included in the 'presumed COVID' category of people who have COVID symptoms (which Influenza symptoms can be mistaken for), but are not tested for SARS RNA," he said in an interview with Just the News.
Had Unruh bothered to fact-check Wittkowski's claim, he would have found it to be bogus:
In summary, no evidence supports the claim that flu cases are being misdiagnosed as COVID-19. Although both diseases share similar symptoms, probable COVID-19 cases must meet additional criteria besides the presence of disease symptoms, such as previous close contact with a COVID-19 case or a positive SARS-CoV-2 antigen or antibody test result. Social media posts questioning how public health measures can effectively limit the spread of flu but not COVID-19 are misleading as they fail to account for several factors, such as the differences in transmission between COVID-19 and flu. Experts suggest that the lower than usual flu activity this season is likely due to a combination of factors, including public health measures implemented to reduce the spread of COVID-19 and higher flu vaccination rates.
Wittkowski is a coronavirus misinformer whom WND has previously promoted, and notorious enough that Rockefeller University has issued a statement distancing itself from him.
Unruh did actually cite an epidemiologist who correctly and logically noted that COVID-19 mitigation is largely responsible for the decline in flu cases -- but he then let Wittkowski respond by claiming "there is 'no evidence' to support the idea masks would stop the flu." Again, Unruh didn't fact-check that either, thus censoring the fact that, yes, there is plenty of evidence masks help slow the spread, as the above fact-checker also noted:
Wearing face masks reduces the spread of COVID-19 by blocking the release of respiratory droplets from infected individuals. Therefore, wearing face masks likely reduces the transmission of other respiratory infections that spread in ways similar to COVID-19, including the flu. For this reason, Wittkowski claims that if face masks worked, then they should be able to stop both COVID-19 and flu equally. ... As we explain below, such interpretations are misleading, as they overlook the fact that COVID-19 spreads easier than flu. Furthermore, other factors besides the use of face masks may also contribute to reducing flu transmission, such as an increase in flu vaccination rates.
Unruh's article is the kind of factually dubious content WND thinks people will donate to its "News Center" to create.
Posted by Terry K. at 5:41 PM EST