Dubious WND Doc Lies About Her Column Being 'Censored'
Topic: WorldNetDaily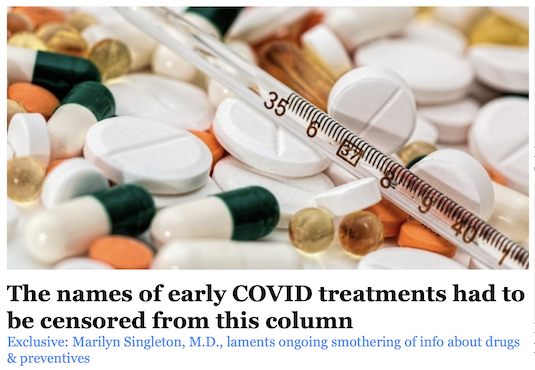 The Dec. 24 WorldNetDaily column by Marilyn Singleton -- who's affiliated with the fringe-right Association of American Physicians and Surgeons -- is headlined "The names of early COVID treatments had to be censored from this column." That's strange; WND is not known for censoring its writers -- heck, it can't even be bothered to fact-check them (which is likely to earn it a lawsuit in the very near future).
Much of Singleton's column is filled with blather about unproven coronavirus treatments, which she has long done in her WND columns. So what's different that purportedly got her "censored" this time? Well, in one paragraph she wrote, "Billions of doses of [censored] and [censored] have been safely used for over 50 years. Repurposing anti-parasitics as antivirals certainly is not out of the realm of medical innovation."
The link to the first "censored" goes to a study touting hydroxychloroquine -- a drug Singleton has long promoted. The second is a link to a study about another drug touted as a coronavirus treatment, ivermectin. That drug has been promoted by name in other WND columns -- including a Jan. 15 column by Singleton herself.
Singleton later wrote:
The COVID horse is out of the barn. We need to tame it. Let's start by educating patients, influencers and policymakers about early treatment with [censored] and preventive measures such as [censored] and the proven uselessness, arbitrariness and social and economic costs of [censored] that serve to make "poor people poorer" and erode trust in public health officials.
The first "censored" link goes to a website called c19study.com, one of two affiliated but mysterious websites designed to promote hydroxychloroquine that are filled with questionable studies and other psuedoscience. The websites' operators have remained secret -- hiding behind a wall of secrecy is not something legitimate researchers do -- but it's believed that the AAPS had some role in their creation. The second "censored" link goes to the AAPS website to send for a free booklet on "A Guide to Home-Based COVID Treatment," written by Singleton's fellow dubious AAPS docs, Jane Orient and Elizabeth Lee Vliet.
The final "censored" link goes to a study from last August claiming that lockdowns and mask mandates don't reduce coronavirus transmission rates or deaths. Given that rates and deaths have skyrocketed since then after initial lockdowns and mask mandates were lifted, it's likely no longer valid. Further, Singleton's claim that lockdowns and mandates "erode trust in public health officials" is disingenuous, since she's trying to foment that erosion of trust.
At no point did Singleton tell readers who, exactly, was "censoring" her.
We don't believe that anyone actually "censored" Singleton -- that's not how WND rolls. Her claim was nothing more than a lie and a gimmick to get people to read her column and try to overlook the fact that she was simply peddling the same right-wing conspiratorial hooey she's been dishing out for months.
Speaking of trust: Such a stunt is a textbook example of how one erodes public trust in oneself.
Posted by Terry K. at 12:34 AM EST
Updated: Friday, January 22, 2021 7:05 PM EST