CNS Uncritically Promotes Hawley's Exaggerated Claim Of His Family Being 'Threatened'
Topic: CNSNews.com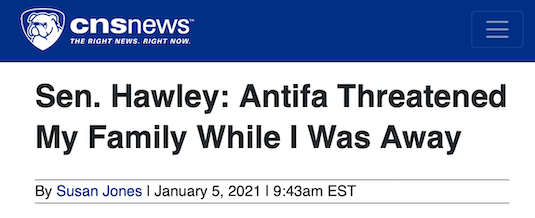 CNSNews.com reporter Susan Jones sure tried to make it sound sinister in a Jan. 5 article:
In a tweet late Monday night, Sen. Josh Hawley (R-Mo.) said his family was threatened by "Antifa scumbags" while he was out of town:

Tonight while I was in Missouri, Antifa scumbags came to our place in DC and threatened my wife and newborn daughter, who can't travel. They screamed threats, vandalized, and tried to pound open our door. Let me be clear: My family & I will not be intimidated by leftwing violence.

Hawley has made headlines in recent weeks after announcing he will object to the congressional certification of the Electoral College vote on January 6.

The threats aimed at him follow the graffiti vandalism at Senate Majority Leader Mitch McConnell's Louisville, Kentucky home and an apparently coordinated graffiti attack at the San Francisco home of House Speaker Nancy Pelosi this past weekend.
But if Jones had bothered to look further ihnto the story before writing about it, she would have learned that Hawley's claim of his family being "threatened" was exaggerated. As an actual media outlet reported:
Vienna police said they did not see anyone pounding on the Hawleys' or their neighbors' doors, did not hear any threats and did not see any vandalism other than chalk on the sidewalk. And as of Tuesday afternoon, they had not received a formal complaint from the Hawleys, Officer Juan Vazquez said. Vazquez told the Associated Press that when police arrived, they found that the "people were peaceful."

[...]

Demonstrators with ShutDownDC, which organized the protest, also told The Washington Post that they did not engage in vandalism or even knock on Hawley's door. shared by the group shows protesters writing in chalk on the sidewalk, chanting through a megaphone and at one point leaving a copy of the Constitution on Hawley's doorstep.

"This was not threatening behavior," said Patrick Young, a ShutDownDC organizer. "This is people engaging in democracy and engaging in civil discourse. … This was a pretty tame and peaceful visit to his house."

The group's video shows several officers asking protesters to quiet down, but then standing by as the crowd continued with its demonstration.
Meanwhile, PolitiFact summarized:
Hawley said protesters at his Virginia home "screamed threats, vandalized, and tried to pound open (his) door."

This conflicts with police accounts of the event and a video showing the full demonstration. The demonstration was disruptive, but the full video shows it was not as violent as he made it sound.

We rate this claim Mostly False.
Jones has not seen fit to correct the record in this or any subsequent article, meaning that a highly misleading claim remains live on the CNS website. Is that the way a media outlet builds credibility?
Posted by Terry K. at 10:53 AM EST