WND's Zumwalt Has Pushed Other Bogus Election Conspiracies Too
Topic: WorldNetDaily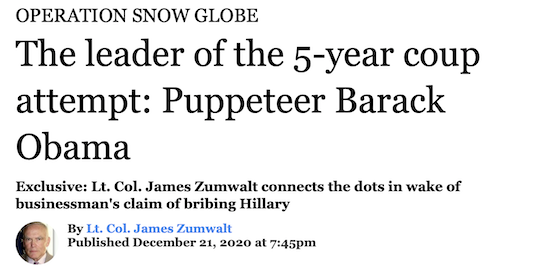 WorldNetDaily has yet to comment on columnist James Zumwalt's repeating of apparently bogus accusations against Dominion Voting Systems official Eric Coomer that Coomer has sued others over (in a column in which he repeated other bogus claims). But since Zumwalt has always had an affinity for conspiracy theories, let's take a look some other recent columns for post-election silliness (and potential libelous statements).
Zumwalt began his Dec. 9 column by gushing over bonkers Trump-adjacent lawyer Sidney Powell, then moved on to conspiracy-mongering:
To tease the public about the mountain of evidence she had accumulated on voting fraud occurring in the 2020 presidential election, attorney Sydney Powell said she would "release the Kraken." The reference was to a 2006 sci-fi movie about a giant squid. Just like the movie's monster, Powell's Kraken had many tentacles leading to numerous claims of fraud.

As she and others seek court access to slay the beast, two points of interest arise. First, do the evidentiary tentacles of voting fraud lead back to a central source? And, second, does the best chance to slay the Kraken lie, not in attacking it directly, but employing an indirect attack that avoids the voter fraud issue?

[...]

Clearly, however, the biggest factor that effectively worked to steal the election – if proven – can be linked to the company providing the voting machines. It has been alleged that a post-election forensic examination of one of those machines in Ware County, Georgia, had intriguing results. When an equal number of Trump votes and Biden votes were inserted into it, the machine's tabulator converted 26% of the former to the latter. This raises concerns on a national level as the voting machines served 40% of voters in 28 states.
Tha "company providing the voting machines" is, of course, Dominion -- we're not sure when Dominion achieved he-who-must-not-be-named status for Zumwalt -- and Zumwalt's claim is, of course, false. There was a small tabulation error that was corrected during a hand recount.
Zumwalt served up more conspiracy-mongering in his Dec. 16 column:
A large number of voters, both Republican (77%) and Democrat (30%), believe fraud occurred. Evidence includes ballots emptied from suitcases hidden under a table at a voting station and counted after the departure of monitors who were told counting had stopped for the night; a truck driver transporting thousands of Biden ballots from New York to Pennsylvania; the same Biden ballots repeatedly being run through the tabulation machine; voting machine post-election testing revealing running equal numbers of Trump and Biden ballots generating a 3% Biden advantage; etc.
The suitcase thing is bogus. The truck driver who claims to have transported the ballots from New York to Pennsylvania, Jesse Morgan, is an amateur ghost hunter with a criminal record and history of drug use who (surprise) has no proof of what he claims. The "Biden ballots repeatedly being run through the tabulation machine" is linked to the bogus suitcase thing. The "voting machine post-election testing" wasn't about voting machines at all but tabulation machines, and it's about claims made by Arizona Republicans that they refused to provide the evidence for when asked.
Zumwalt then called for a "nuclear option" to be activated:
As Trump declared, our election system is under a "coordinated assault and siege." It is a diabolical and stealthy effort to undermine democracy. It is an extreme threat demanding an extreme solution – and the Insurrection Act has been proposed as providing the vehicle for doing so. The military's seizure of all election fraud evidence in contested states is a nuclear option needed to determine what occurred. Perhaps offering immunity to the fraud "foot soldiers" above would be a good start.
In his Dec. 21 column, Zumwalt invoked "a firsthand account by a most reliable source, Patrick Byrne, billionaire founder of the Internet furniture retailer Overstock.com." Byrne is actually a disgraced CEO who was forced out of Overstock after he started spinning tales of Deep State conspiracies and claiming he had an affair with a Russian agent at the behest of "men in black" federal agents. So, not reliable.
Zumwalt approvingly cited Byrne's claims that the fact that Barack Obama chose to live in Washington, D.C., after his presidency meant he was "well positioned geographically to establish a shadow government" and that "the Obamas worked with other Democrats to destroy Trump's presidency to preserve Obama's legacy." Asserting that Byrne's reputation as a successful businessman give credibility to what he says," Zumwalt repeated what Byrne said: that he facilitated a $20 million bribe from Turkey to Hillary Clinton and that "FBI agents then shared Obama's plan to manipulate Hillary" with Byrne. Which led to this wild conclusion by Zumwalt:
Connecting the dots tells us Obama remained in Washington's "swamp" to play the role of a puppeteer. He counted on holding the strings of power for what he believed would be an additional 16-year run, courtesy of Hillary and Michelle – with Hillary a willing puppet due to the bribery charges hanging over her head. In view of Trump's election spoiling Obama's Plan A, does Obama's Plan B now involve using the 25th Amendment to remove Biden from office to get his preferred candidate, Kamala Harris, in? And, as far as Hillary's bribery not coming to light before Byrne's tell-all interview, one assumes a Deep State still influenced by Obama kept it buried. Meanwhile, Biden may unknowingly be serving as a puppet in all this – one controlled by master puppeteer Barack Obama.
WND has so far decided to stick by Zumwalt. Is that really a wise thing to do given its shaky finances that would likely not withstand a legal assault by the people Zumwalt has apparently libeled?
Posted by Terry K. at 12:24 AM EST
Updated: Monday, January 4, 2021 9:16 PM EST