CNS' Capitol Riot Coverage: Briefly Shocked Into Balance
Topic: CNSNews.com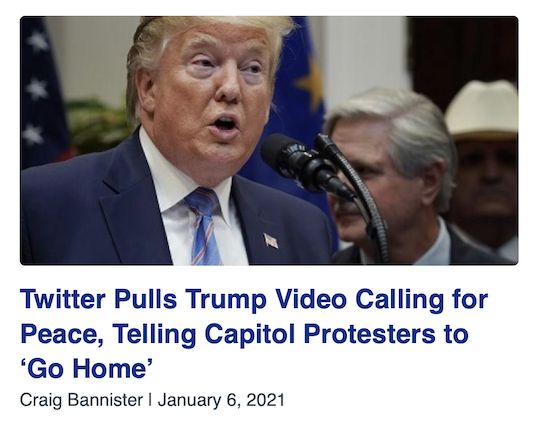 Yesterday, we looked at how CNSNews.com fed into President Trump's bogus narrative that the election was stolen in the days before the Jan. 6 armed riot at the Capitol. Now, let's examine CNS' coverage of the riot and its aftermath.
Like its colleagues at the Media Research Center, CNS was briefly shocked into balance by the right-wing-driven riot. An early, anonymously written article on the riot was mostly straight, and an article by Melanie Arter quoted a Republican congressman denouncing it.Another Arter article noted that "Hours before protesters marched to the U.S. Capitol and stormed the U.S. Capitol building, President Donald Trump's son, Donald Trump, Jr., mocked Black Lives Matter and Antifa protesters who looted and rioted in nationwide protests last year, comparing Trump supporters to them at the Save America Rally in Washington, D.C. This was followed by an article highlighting that "a pipe bomb was found outside the headquarters of the Republican National Committee," burying that "A suspicious package was also discovered at the headquarters of the Democratic National Committee."
After that, Susan Jones penned articles on both Nancy Pelosi and Mitch McConnell denouncing the riot, followed by an article on Fox News' Tucker Carlson denouncing the riot while also seeming to justify it: "As long as people sincerely believe they can change things by voting, they stay calm." There was no mention of Trump's false claims of election fraud that instigated it.
But then, Craig Bannister echoed the MRC's bogus narrative that Trump was nothing but a man of peace on Twitter, under the headline "Twitter Pulls Trump Video Calling for Peace, Telling Capitol Protesters to 'Go Home'," even citing those bogus claims in his item.
CNS then did a surprising number of items denouncing the riots and its aftermath and identifying Trump's key role in them, even noting the Trump administration officials who resigned over the riot:
Arter served up more stenography, uncritically repeating White House Press Secretary Kayleigh McEnany's denouncing of the riot and Trump's later denouncing of the riot and empty pledge of "a smooth, orderly and seamless transition" without comment or any mention of Trump's key role in instigating the insurrection.
But CNS also delivered some of the nitpicky things they're known for (while not explicitly defending Trump or the riots). Rob Shimshock complained that some random former "Jeopardy!" champion refused to mourn the death of Ashli Babbitt, a protester who was killed in the riot. Shimshock sympathetically described her as a "14-year veteran of the Air Force" but failed to note that she was also a QAnon conspiracy theorist.
An article by Jones on former Republican Colin Powell denouncing the riots and the police response to it framed it as "a 'bash Trump' interview with CNN," further complaining that Powell was "invited by CNN's Wolf Blitzer to view the Capitol police response through a racial lens" and parenthetically adding, "Notably, President-elect Joe Biden is among the Democrats -- many in the media -- insisting that the Capitol police response would have been more violent if the mob storming the Capitol had been mostly black." Jones repetitively hammered home that point again later in the article: "Host Wolf Blitzer brought up the race card, as Biden and many liberals have done as well."
Managing editor Michael W. Chapman grumbled that comedian Kathy Griffin issued "a tweet re-posting her infamous 2017 photo in which she posed while holding up an image of the president's 'severed head.'" And Bannister returned to tout how "A video montage posted Thursday shows MSNBC and CNN hosts and guests excusing, denying and defending leftwing violence in 2020."
Posted by Terry K. at 12:57 AM EST
Updated: Thursday, February 11, 2021 10:21 PM EST