MRC Sells Bumper Stickers Pushing Election Fraud Conspiracy Theory
Topic: Media Research Center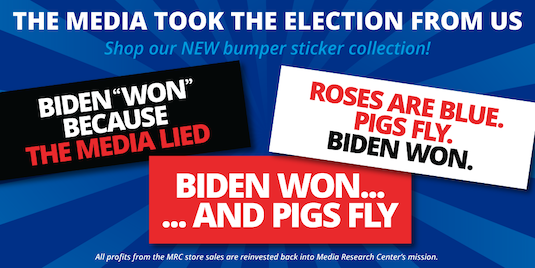 Brent Bozell has made it clear that he and his Media Research Center will not admit that Joe Biden won the election fair and square and that there is no evidence of massive election fraud -- even after ther Capitol riot that was spurred by promotion of those election fraud conspiracy theories.
We see this even at the MRC's online store, which is continues to sell bumper stickers saying things like "Biden Won ... And Pigs Fly" and "Roses Are Blue. Pigs Fly. And Biden Won." There's also a bumper sticker that states "Biden 'Won' Because The Media Lied" -- which references the MRC's take on the conspiracy theory, that Trump lost because the media didn't advance right-wing, pro-Trump spin to the MRC's satisfaction ... as determined by the Trump campaign's pollster and the pollster founded by longtime Trump adviser Kellyanne Conway.
Meanwhile, of course, the MRC continues to express its disdain for journalism -- and, it seems, the very "news" division it operates, CNSNews.com -- to sell clothing emblazoned with the phrase, "Believe In America, Not The Media."
Such extremism and denial of reality is not a good look for an organization that presumably would like to be thought of as something other than a Trump toady.
Posted by Terry K. at 1:23 PM EST
Updated: Monday, January 25, 2021 8:33 PM EST