Newsmax's Hirsen Latches Onto Bogus Election Conspiracy Theories
Topic: Newsmax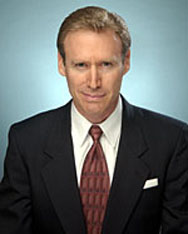 If smirky Newsmax columnist James Hirsen was complaining about "moral projection" before the presidential election, it's fair to say that the pro-Trump writer was clearly engaging in amoral projection afterwards.
Hirsen went all-in on election fraud conspiracy theories in his Nov. 9 column, falsely declaring that "Last minute rule changes, software glitches, count halts, ballot dumps, and statistical anomalies made their ugly appearances this election-go-round, all to the benefit of one party only" (italics in original). As a purported example of this, he claimed: "In Michigan, Democratic presidential candidate Biden at one point received a block of 138,000 votes. Nearly all of the votes added to his tally. This is a statistical impossibility." In fact, that was a typo that was quickly fixed.
Hirsen also asserted:
Dominion Democracy Suite software was used for tabulating ballots in Michigan's Antrim County. A reported "glitch" caused at least 6,000 Republican votes to be counted as Democrat votes, according to Michigan GOP Chairwoman Laura Cox.

When corrected, the miscalculation, which was first reported by a county clerk, changed the results of the county from candidate Biden to President Trump.

Forty-seven other counties in Michigan may also have suffered a similar glitch, due to the same software. If each of these counties, when corrected, were to have a switch-over of 6,000 votes, it would result in President Trump receiving 282,000 additional votes, likely changing Michigan's election results.
In fact, the "glitch" was a human error, not a problem with the Dominion software, and nothing similar happened in the 65 other Michigan counties (not 47, as Hirsen claimed) that used Dominion software.
Hirsen was still in conspiracy-theory mode in his Nov. 16 column, demanding that states override the popular vote and get Trump re-elected:
Despite repetitive denials emanating from a multitude of Democratic and media sources, it's clear that there has been unprecedented and widespread voter fraud as it relates to the all-important 2020 presidential election.

Although several lawsuits have been filed and are in the process of being adjudicated, the ultimate antidote for the toxin that has infected our electoral system does not rest in a state or federal judiciary.

Instead it rests in the state legislature.

[...]

President Trump's supporters need to keep the faith — in the Constitution, in the truth, and in him.
Hirsen got all emo in his Nov. 23 column by couching his conspiracy theories in what he insisted was a "dark night of the soul" for America:
In essence, half the population is now being told to reject what they have seen with their own eyes, heard with their own ears, and know in their own hearts; that on election night, the vote counting of several states was halted, with no explanation given.

When it once again commenced, suddenly there were massive quantities of votes that came in for the Democratic presidential candidate.

In congressional, state, and local races, voters turned away from Democratic candidates, yet they still managed to vote for the Democratic candidate for president.

In record numbers, Black Americans chose the Republican candidate.

Nevertheless, the Democratic presidential candidate somehow received 11 million more votes than former President Barack Obama did in 2008.

[...]

And the same people who spread false information about Russia-gate and Ukraine-gate are now urging folks to move on, claiming that there is nothing to investigate and that the American people should graciously accept their candidate of choice.
First: Those "record numbers" of Black voters for Trump still meant that only 8 percent of Black voters voted for him. 92 percent did not.
Second: there are more Americans than there were in 2008 and 2012, and many of them were motivated to vote against Trump, so it makes sense that Biden got more votes than Obama.
Hirsen tried to end on an optimistic note: "What follows the lowest of low points is an unexpected breakthrough that enables the protagonist to overcome seemingly impossible odds and secure victory. I like to think of it as 'The Bright Light of the Spirit.'" The problem, of course, is that he believes that the dishonest, amoral, reality-denying Trump is the protagonist.
Posted by Terry K. at 8:51 PM EST