CNS Unemployment Coverage Distortion Watch
Topic: CNSNews.com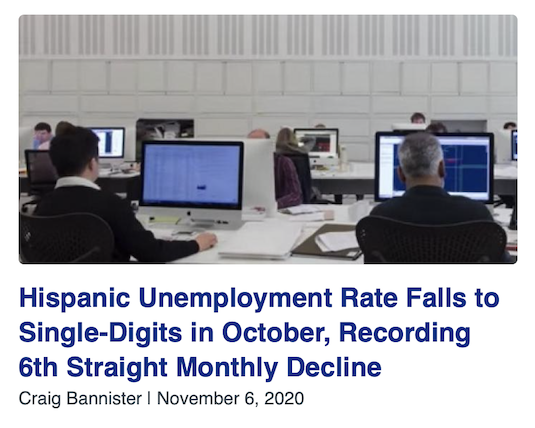 CNSNews' Susan Jones does her best to put a positive pro-Trump spin on last month's employment numbers under the headline "Post-Election Gains":
October marked the sixth straight month of post-pandemic employment gains, as the economy added 638,000 jobs and the nation's unemployment rate dropped to 6.9 percent, a point below September's 7.9 percent and far lower than the record-shattering, COVID-induced 14.7 percent in April.

The Labor Department's Bureau of Labor Statistics counted 149,806,000 people as employed in October, which is 2,243,000 more than September's number, but 8,997,000 below the record 158,803,000 people employed in December 2019, just before the pandemic erupted.
Interesting that Jones is touting December 2019 as the relevantpre-pandemic high, given that the pandemic didn't affect employment numbers until March.
Jones also noted the low laboe force participation rate, but was quick to explain it away, something she rarely did when Barack Obama was president: "BLS notes that this "not in the labor force" number has been steadily increasing in recent years as more baby boomers retire, and certainly the COVID-related business closures have accelerated the increase as more people drop out of the workforce."
CNS also served up the usual sidebars. Craig Bannister tried for pro-Trump rah-rah by claiming that "The unemployment rate for Hispanics and Latinos improved for the sixth consecutive month in October as the nation's businesses continued reopening from the coronavirus-prompted shutdown." Government-hating CNS editor Terry Jeffrey, meanwhile, gloated that "The number of people working for government in the United States declined by 268,000 in October even as overall employment in nation increased," then had to admit, "The decline of government workers occurred as temporary Census workers were let go and employment dropped in government schools."
Posted by Terry K. at 1:40 AM EST