MRC Still Aggressively Ignoring Evidence Facebook Isn't Biased Against Conservatives
Topic: Media Research Center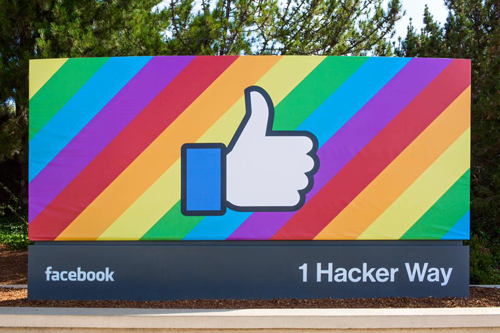 The evidence that Facebook isn't really biased against conservatives keeps piling up:
So the ref-working is working. Of course, the Media Research Center has not told its readers about any of this research -- after all, it has a victim narrative to maintain. And as these reports became public, the MRC continued falsely painting Facebook as the conservative-hating bad guy. We've already documented how the MRC cried "censorship" when Facebook enforced its rules against spreading misinformation on Trump's campaign and right-wing radio host Mark Levin, as well as the false claim that Facebook makes 90 percent of its political donations to Democrats (actually, those are the employees, who are free to give to whomever they want). But there's much more.
An Oct. 12 post by Alexander Hall and Alec Schemmel played the whataboutism card, complaining that "Facebook has repeatedly censored or banned groups on the right while allowing reportedly violent Antifa factions and left-wing militia organizations." This, of course, brought an "open letter" from their boss, Brent Bozell, to Congress huffing that "If Facebook bans pages and groups on their platform promoting conspiracy theories like QAnon, it ought to do the same with those perpetrating violence like Antifa."
On Oct. 23, Hall cheered the idea of the Federal Trade Commission "mulling over an all-out offensive against Facebook" filing an antitrust lawsuit,suggesting a conspiracy of some kind by asserting that "conservatives who wish to wrangle with Big Tech have reportedly faced opposition both from Democrats and fellow Republicans."
The same day, Kayla Sargent launched another attack on Facebook's newly created oversight board, complaining that 'the board is primarily comprised of leftists" -- the MRC's evidence of which is that one board member is a Muslim and another made a pun on Barron Trump's name during a congressional hearing -- and spreading the lie that "the suppression of conservative speech on the platform may not change at all, and could even get worse."
An Oct. 26 post by Joseph Vazquez tried to manufacture a conspiracy:
If the liberal media's relative silence towards Facebook and Google's Orwellian behavior this electoral cycle seemed deafening, perhaps it's because many outlets have received big loads of cash from them.

[...]

The extent of both Big Tech companies' influence over journalism in America doesn't stop there. Facebook also "gains influence over the press (while also scoring public relations points) by financing fact-checking initiatives." For example, in 2019, Facebook was the "largest source of revenue" for the left-wing Poynter Institute's International Fact-Checking Network, Washington Monthly said. In addition, Google also "finances fact-checking organizations (many of the same ones as Facebook), but is even vaguer than Facebook about the amount it gives and to whom."
The same day, Hall complained that "Facebook is reserving the right to reduce the spread of controversial posts and rig users' news feeds for what it considers to be the greater good,: but he offered no evidence that these rules would specifically target conservatives.
On Oct. 28, Schemmel highlighted how "CEO's from Twitter and Facebook struggled to provide one example of a liberal being censored on their respective platforms during a Senate hearing about Section 230 of the Communications Decency Act" while uncritically repeating the talking point that "Republican lawmakers have argued that social media companies disproportionately target conservative viewpoints while giving a free pass to liberal ones."
Sargent launched another attack on the oversight board on Nov. 4, stating that "The Facebook Oversight Board's most radical member,Tawakkol Karman, who lives in Yemen, tweeted today praising the possibility of Trump's defeat." That would be the Muslim member the MRc has previously lashed out at.
Hall went back to the whataboutism card on Nov. 6, grousing that "Facebook has shut down an activist group with pro-Trump ties concerned about voter fraud while still allowing reportedly violent Antifa groups to remain." He downplayed the threats of violence on the group's page that prompted Facebook to shut it down by letting page organizers deny it. The same day, Sargent got mad that Facebook was "censoring what they deem to be election misinformation," but she made no case for the unrestricted distibution of false information.
And Hall lashed out at Facebook for flagging an MRC video as misinformation:
Facebook's fact-checkers have tried to discredit MRCTV's reporting about the most critical election of our lifetime.

The NewsBusters Facebook account posted a video on Thursday by MRCTV Managing Editor Brittany Hughes. In the video, Hughes slammed the lack of transparency during the 2020 election process. The text of the post itself asked: "Why aren't Americans allowed to talk about serious, legitimate questions regarding the 2020 election? Because Big Tech doesn't want you to." Facebook fact-checkers predictably flagged the post with a massive label: "Partly False Information," and claimed: "The same information was checked in another post by independent fact-checkers."

The label linked to a fact-check claiming: "Biden Did NOT Suddenly Go Up 138K Votes In Michigan, With No Change To Trump" by none other than the notoriously left-wing Lead Stories.

Hughes responded that the fact-check was irrelevant because MRCTV's video agreed with the fact-check's statement: "What looked like a suspicious, one-sided jump was actually just an input error."
Hall didn't mention that Marsh also falsely ranted that the election results "stinks worse than a Seattle fish market, and anyone with two eyes and a brain stem can see it."
Oh, and as we've documented, Lead Stories is not, in fact, "notoriously left-wing"; indeed, both he and Marsh appear to concede that Lead Stories' fact-check on the Michigan votes is correct. Hall also reprinted the part of Hughes' script in which she pushes the conspiracy bny claiming the vote numers "were quickly added to Biden's vote tally and any question over their legitimacy was immediately censored on Twitter" before admitting "the whole thing was a 'typo.'" The fact that Hughes put "typo" in scare quotes in her script tells us she wasn't all that happy that the facts trumped her conspiracy theory -- and that Facebook was correct to flag her video.
Posted by Terry K. at 9:26 PM EST
Updated: Monday, November 16, 2020 9:28 PM EST