Fake News: CNS Illustrates Article With Fraudulent Image
Topic: CNSNews.com
Lucy Collins kept up the CNSNews.com intern tradition of pestering politicians with gotcha questions in a Nov. 12 article -- in this case, Nancy Pelosi:
At the U.S. Capitol on Thursday, CNSNews.com asked the speaker, "In 2000, Democrat Al Gore was allowed to press his legal challenge against George W. Bush for 37 days, do you think the same type of patience should be afforded to President Trump in his legal challenges?"

Pelosi said, "In 2000, the delayed ascertainment caused many difficulties, the Bush Administration was outspoken about what was happening in the country. And, as [Senate Minority Leader Chuck Schumer (D-NY)] said, this is a completely different situation, we are talking about one state."

Gore had challenged to [sic] vote count in Florida and the case was eventually decided by the U.S. Supreme Court.
That's an overly simplistic distillation of what happened in 2000, but that's not the issue here. The issue is what appears after that statement: an image of a Washington Times front page proclaiming, "PRESIDENT GORE," described as a screenshot from YouTube. Here's a screenshot of the fake image as it appears in the article: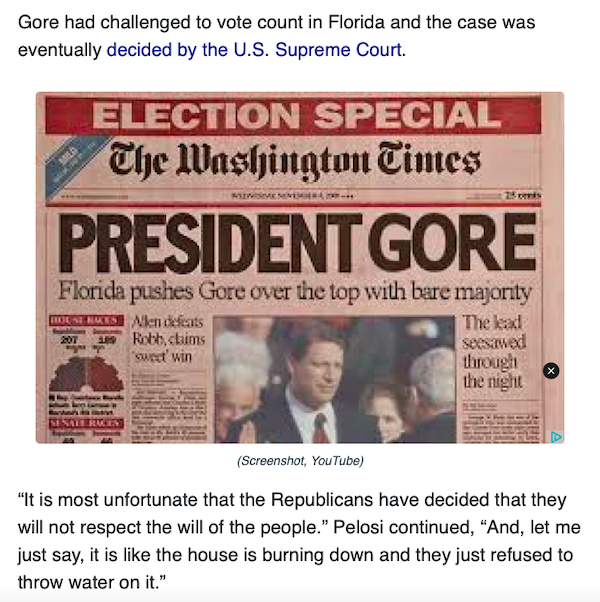 Just one problem: That image
is a
fake
, and it's unclear where the image originated. As the newspaper itself
tweeted
, "Those photos have been doctored. The Washington Times never ran a 'President Gore' headline."
It's been nearly a week, and CNS has let that image stand uncorrected and without context. That's not how "news" organizations -- which CNS claims to be -- establish credibility.
Posted by Terry K. at 1:19 AM EST
Updated: Thursday, November 19, 2020 1:43 PM EST