MRC Pretends Pro-Trump 'Herd Immunity' On Coronavirus Is Scientifically Sound
Topic: Media Research Center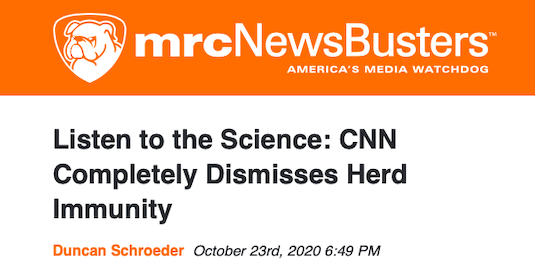 The Media Research Center just hates when the media invoke actual science to criticize President Trump's actions on coronavirus. Mark Finkelstein got all huffy in an Oct. 14 post:
CNN seems happiest when it can accuse the president of not merely being reckless with the coronavirus response, but being guilty of "mass murder."

The president has tweeted in favor of more reopening of states. Yahoo News reported White House aides cited something called the Great Barrington Declaration, which states "The most compassionate approach that balances the risks and benefits of reaching herd immunity." Yahoo cautioned that "It is unclear how far Trump and his administration will go to push states to adopt a herd immunity approach to the virus."

But on Wednesday morning's New Day, they brought on former Harvard professor Dr. William Haseltine to drop rhetorical bombs. What provoked the prof was the possibility the prez might be adopting some form of "herd immunity" approach to the pandemic. It's something that the president's science adviser, Dr. Scott Atlas, has been suggesting.

According to Haseltine, adopting the herd immunity approach would cost nothing short of two to six million American deaths . . . every year!

Of course, that ignores the realistic prospect that by June or so, an effective vaccine will be widely available. It also flies in the face of the New York Times report that "Experts are saying, with genuine confidence, that the pandemic in the United States will be over far sooner than they expected, possibly by the middle of next year. "

In that light, the prof's prediction of 2-6 million American deaths every year seems wildly pessimistic. But the left will never overlook an opportunity to cast President Trump in the worst possible light.
Note that Finkelstein doesn't actually try to defend the idea of herd immunity on coronavirus -- perhaps because the vast majority of virus experts don't think it's a good idea, given that it will require more people to die before a vaccine becomes widely available, as well as the fact that, since COVID-19 is such a new virus, nobody knows for sure what the herd immunity threshold is for it.
Finkelstein also didn't mention that the Great Barrington Declaration has numerous fake-name signatories, or that one of the declaration's co-authors has since walked back his support for herd immunity.
Duncan Schroeder similarly whined in an Oct. 23 post:
On Wednesday afternoon's CNN Newsroom, host Brianna Keilar collaborated with medical analyst and former Planned Parenthood president Leana Wen to attack one of the liberal media's most hated targets in White House adviser Scott Atlas and discredit herd immunity. Wen lied by claiming that herd immunity "goes against the consensus of entire medical, scientific and public health community" and Keilar proclaimed that "it's not a public health strategy."

[...]

Wen flat out lied about the "consensus" about herd immunity. Atlas himself is an esteemed scientist for one so his opinion certainly bares some weight. Furthermore, the strategy is supported by esteemed Harvard professor of medicine Martin Kulldorff as well as other medical experts from Stanford, Harvard, and Oxford. Furthermore, the strategy was proven as effective in Sweden, as cases and deaths have dropped dramatically there. In fact, by September, Sweden averaged one COVD death per day.
The MRC has previously defended Atlas, and while he might be an "esteemed scientist,"his specialty is in neuroradiology, not epidemiology or other viral studies that would be relevant in combating coronavirus, and the university where he was based, Stanford, has distanced itself from his views, calling them "inconsistent with the university's approach in response to the pandemic."
Further, Schroeder appears to have spoken too soon about Sweden's alleged success with herd immunity, as new cases have exploded over the past month to the point that the country is aggressively restricting public gatherings to slow the spread.
Schroeder then took a gratuitous shot at Wen because of her former Planned Parenthood leadership -- something else the MRC is weirdly obsessed with, despite the fact she had the job for less than a year. When Wen said that "to hear the President say that he wouldn't do things differently when there are over 220,000 Americans who have died, I mean, that's shocking, it's unbelievable," he sneered in response: "A rather ironic statement coming from a former president of Planned Parenthood. Is she as concerned about the hundreds of thousands of babies that Planned Parenthood murders every year?
Schroeder implored us in his headline to "listen to the science." But it's clear he only "listens to the science" when it supports his pro-Trump bias.
Posted by Terry K. at 9:43 PM EST