Is Trump Working As CNS' 'News' Assignment Editor?
Topic: CNSNews.com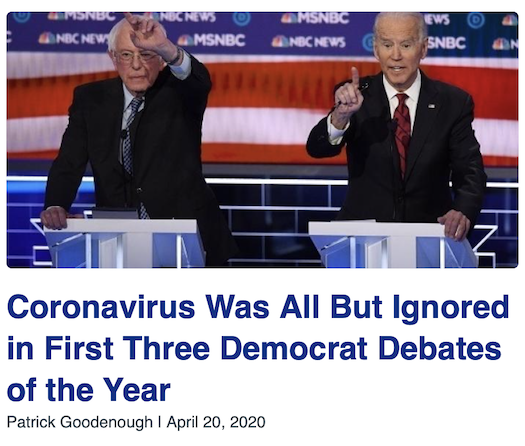 The Washington Post reported regarding President Trump's April 19 press briefing:
During the White House's daily coronavirus news briefing Sunday, President Trump took a shot at the presumptive Democratic nominee for this year's presidential election, former vice president Joe Biden.

"I do want to read something that I just saw today on television," Trump said. "I was looking and I just said, 'That's an interesting statement.' We talk about the Democrats, and it was a statement made by Bret Baier, good guy, smart."

"'On February 19th, there was a Democratic debate in Las Vegas,' Trump read. "That was February 19th. That's way after I closed entrance from China into our country. So Bret goes, 'On February 19th there was a Democratic debate in Las Vegas. Three words weren't said during the debate — virus, coronavirus or covid-19. Those three words never came up.'"

"That was — I just thought it was a very interesting," Trump added, "because, you know, you hear these people, some of the people, the Democrats said, oh, this, that. It never even was a part of their dialogue."
The very next day, CNS reporter Patrick Goodenough cranked out an article designed to flesh out that Trump talking point -- almost as if CNS was working as an arm of the Trump re-election campaign:
The first three Democrat presidential debates held this year – on Jan. 14, Feb. 7, and Feb. 19 – contained a single, passing reference to the coronavirus outbreak that had emerged in China weeks earlier and was starting to spread.

That sole reference came from former South Bend, Ind. Mayor Pete Buttigieg, during the Feb. 7 debate in Manchester, N.H., who said, "The next president is going to face challenges from global health security, like what we're seeing coming out of China."

None of the other candidates raised the issue, and neither did the ABC News moderators. The word "coronavirus" was not mentioned. (Neither was "COVID-19," although the World Health Organization only came up with that name for the disease on Feb. 11.)
After noting that Trump had brought up the Democratic debate the day before, Goodenough added more pro-Trump talking points:
"Coronavirus" first featured in a Trump tweet on Jan. 24, when he thanked China for "working very hard to contain the Coronavirus." At the time the CDC had reported two confirmed cases in the U.S.

On Jan. 29, the White House announced the formation of the coronavirus task force, and on Jan. 31 Trump declared the outbreak a public health emergency. When he delivered his State of the Union on February 4, Trump said the administration "will take all necessary steps to safeguard our citizens from" the coronavirus threat.
This is what happens when you make Trump -- and not, say, an actual journalist -- the assignment editor on your "news" desk.
Posted by Terry K. at 5:08 PM EDT
Updated: Wednesday, May 13, 2020 8:20 PM EDT