Yes, CNS Is Still Obsessed With Tim Tebow
Topic: CNSNews.com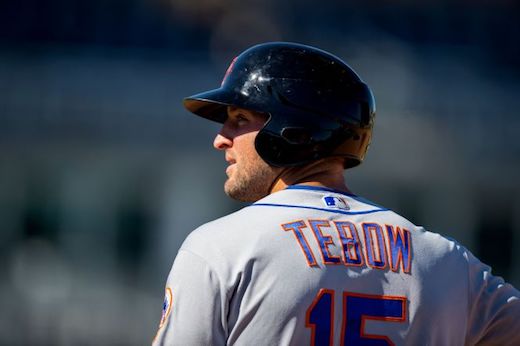 Among the fans of pro football player-turned-minor league baseball player Tim Tebow at the Media Research Center, CNSNews.com commentary editor Michael Morris is positively obsessed with him, mainly due to his ostentatiously Christian faith and not the fact that he's, you know, a failed NFL player who changed sports and can't quite break into the majors there.
Thus, Morris penned a March 5 CNS post gushing over Tebow's first hit in spring training:
During a Spring Training game against the Boston Red Sox, New York Mets outfielder and former NFL quarterback Tim Tebow recorded his first hit of Spring Training 2019.

Tebow, "who hit a dribbler to the pitcher his first time up," took the first pitch of his second at-bat to the outfield, hitting a single off of Red Sox pitcher #91 Mike Shawaryn. Shawaryn was drafted by the Boston Red Sox in the 5th round in 2016.

Mets #15 Tim Tebow has had nine at-bats so far in Spring Training 2019, according to the MLB website, and he currently has an average of .222 and an OPS of .522. On his career during Spring Training, Tebow has had 54 at-bats with an average of .130 and an OPS of .319.
That's right -- a baseball player who got his first spring training hit in his ninth at-bat was news, according to Morris.
As it turned out, Tebow didn't do much better: He got only four hits in 15 at-bats and began his season in the minors again. And Morris is definitely not going to tell his readers that professional baseball scouts believe it's unlikely he'll ever play in the majors.
That's not the only sports-related thing Morris thinks CNS readers -- who aren't there for sports -- need to know. He actually devoted a March 18 post to non-sports guy Kevin Sorbo -- an actor whose political opinions CNS thinks are newsworthy despite its long history of denigrating entertainers who express political opinions -- going even further afield from his area of expertise by complaining that ESPN's "SportsCenter" didn't rank a golfer's hole-in-one high enough.
Posted by Terry K. at 1:21 PM EDT