By Refusing to Fact-Check, CNS Privileges Even More Bogus Claims By Trump And Crew
Topic: CNSNews.com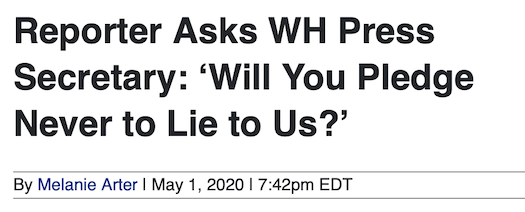 CNSNews.com loves simply transcribing whatever President Trump says without any regard as to whether it's true or not -- its writers simply can't be bothered to fact-check him. It hasn't really stopped, even though the stenography shows how servile CNS is to Trump.
Susan Jones wrote in an April 15 article headlined "Trump: 'I'm Not Going to Put Any Pressure on Any Governor to Open'":
President Trump on Tuesday announced that "plans to reopen the country are close to being finalized," and he said he will soon be sharing the details and guidelines with "everybody."

"I will be speaking to all 50 governors very shortly, and I will then be authorizing each individual governor of each individual state to implement a reopening, and a very powerful reopening plan...at a time and in a manner as most appropriate."

Trump said different states will open in different ways and at different times, "maybe even before the date of May 1st."

Trump also said, "I'm not going to put any pressure on any governor to open."
Jones didn't mention that Trump's statement was a complete flip-flop from just the day before, when he claimed "total" authority over governors to reopen their states, and that "a torrent of backlash from governors and even members of his own party pointedly reminding him of the constitutional restraints on presidential power" forced Trump's flip-flop.
And a few days later, when Jones and Melanie Arter noted criticism of Trump's tweeted calls to "liberate" certain states, they didn't mention that this was a flip-flop of his promise not to "put any pressure on any governor to open."
The same day, Arter uncritically repeated Trump's threat to adjourn Congress over its alleged refusal to vote on some of his nominees. She didn't mention the 1) the Senate is controlled by Republicans, the part of which Trump belongs, or 2) the president has no power to adjourn Congress except in extremely limited circumstances.
On April 20, Craig Bannister took the stenography baton:
"You need to hear this – because you're being bombarded right now with these really over-the-top accusations against the president," Rep. Dan Crenshaw (R-TX) says at the start of a video posted by Trump in which Crenshaw takes on the left-wing political propaganda regarding the coronavirus.

Trump posted the video in Sunday night tweet, declaring it "Brilliant, a Must Watch." Rep. Crenshaw opens his video, titled "Debunking the Left's COVID-19 Narrative," by noting some of the charges the Left is leveling against Trump:

[...]

Crenshaw, then, contrasts how Trump warned about, and took steps against, the coronavirus with what the liberal media and Democrat politicians were doing at the time.
Since Bannister wouldn't fact-check Crenshaw's video, it was left to an actual news outlet to do so, which found that it contains "misrepresentations, incorrect and context-free claims and false choices."
Arter served up more stenography in an April 24 article:
Treasury Secretary Steven Mnuchin announced Friday that he has been working on getting a loan of over $10 million to help the U.S. Postal Service, but the deal could be scrapped if the postal service doesn't start charging companies like Amazon four times what it currently charges for sending packages.

President Donald Trump announced on Friday at a signing ceremony for the $484 billion coronavirus relief bill that the postal service charges too little to send packages for companies like Amazon, and unless they increase their prices for these companies - not consumers - he would not sign anything giving the postal service more money, and he would not authorize Mnuchin to do anything.
Arter didn't mention that -- as an actual news outlet did -- Trump is trying to hurt Amazon because he doesn't like its founder Jeff Bezos, that arbitrarily jacking up shipping prices is stupid because shippers would instead use FedEx or UPS or, in Amazon's case, its own delivery system, and Trump has not offered any evidence that its shipping prices are so low that it loses money on every package it delivers.
Trump's press secretary got a pass on the most basic issue in a May 1 article by Arter:
A reporter asked White House Press Secretary Kayleigh McEnany on Friday whether she would promise not to lie to reporters during the White House press briefings.

"It has been 100 days since the press secretary stood there. Are you planning to do these daily meetings? And will you pledge never to lie to us from that podium?" a reporter asked.

"I will never lie to you. You have my word on that. As to the timing of the briefings, we do plan to do them. I will announce timing of that forthcoming, but we do plan to continue these," McEnany.
Arter didn't tell her readers that McEnany did, in fact, tell lies starting just 15 minutes after she pledged not to. Because at CNS, stenography, not facts, are what matters.
Posted by Terry K. at 12:14 AM EDT