WND Projects In Accusing Liberals of Projection
Topic: WorldNetDaily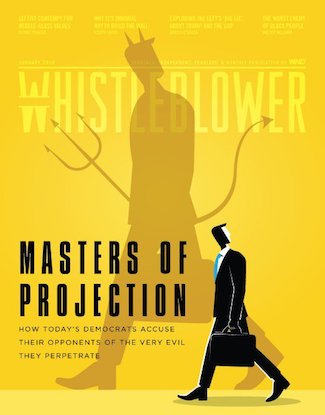 The current issue of WorldNetDaily's sparsely read Whistleblower magazine is titled "MASTERS OF PROJECTION: How today's Democrats accuse their opponents of the very evil they perpetrate," and it's promoted thusly:
In psychology, projection is just one of many defense mechanisms people unconsciously employ to avoid facing uncomfortable feelings within themselves – by ascribing these unpleasant qualities to another person.

But in today's political and cultural battles, projection is a tactic of all-out warfare.

The plain truth is, on issue after issue, one side in the raging war over America's future is literally accusing the other side of the very attitudes, offenses and crimes of which it itself is guilty.

[...]

"After 20 years of producing Whistleblower magazine for WND," says best-selling author and WND Managing Editor David Kupelian, "this has turned out to be one of my favorite issues. It's smart, original, and it shines a fresh new light on the vexing political and cultural wars now ravaging our nation. On issues from 'Russia collusion' to racism, and from tolerance to voter fraud, we document how the left literally accuses others of their own misdeeds."
Kupelian and Co. will never admit it, but WND is a major source of projection. To name just a few examples:
It has complained about people likening President Trump to Hitler after it spent years likening President Obama to Hitler.
It has lamented that people have called for Trump's impeachment -- while it lamely pushed to impeach Obama.
Kupelian's column on the subject, published at WND on Jan. 27, expanded on the theme, declaring at one point that "The left is so good at projection, it even projects the accusation of projection onto others!" He added as one example: "Members of Hillary Clinton's 2008 campaign did spread the theory that Obama was born in Kenya and constitutionally ineligible to be president." The 2016 McClatchy article to which Kupelian links to prove this also notes that the one Clinton campaign staff who spread the story was fired and that a reporter who whom Clinton adviser Sidney Blumenthal fed the claim (he has denied doing so) investigated it and found it to be false.
In other words, it would have died a discredited claim had WND not picked it up and spent the next eight years pushing it. Kupelian is simply seking retroactive justification for pushing a story he knew or should have known was false for the sole purpose of engaging in the politics of personal destrution against Obama.
Isn't that projection too?
Kupelian also unironically wrote: "There are no rules when you're battling Hitler, and that's exactly how the left likes it – no rules. Of course, Trump is not Hitler and the GOP is not fascist, Nazi or evil." Kupelian, Joseph Farah and the rest of WND also likes it when there's no rules -- that's why it had no problem tarring Obama with the Hitler slur it now conveniently despises.
The lack of irony continued in an anonymously written Feb. 7 WND article on House Speaker Nancy Pelosi saying that Trump is "projecting his own unruliness" when he attacks his critics. But instead of directly responding to Pelosi, the article turns into a promotion for the magazine, copying liberally from the earlier promo and Kupelian's column.
In attacking liberals for allegedly projecting in their criticisms of Trump, Kupelian and WND are themselves projecting. Now that's irony.
Posted by Terry K. at 12:39 AM EST