SHOCK: Trump Stenographer CNS Defends Sessions Against Trump
Topic: CNSNews.com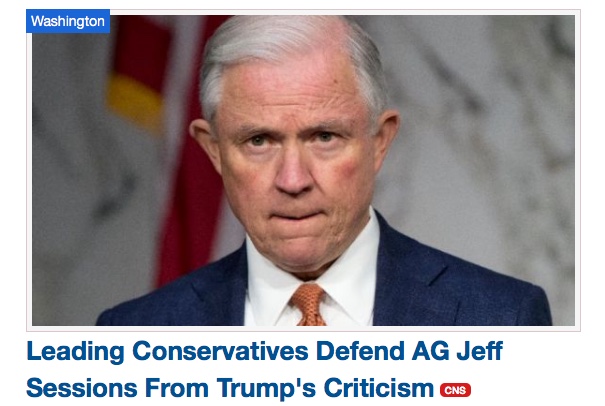 So it appears there is a limit to which CNSNews.com will serve as a servile stenographer and cheerleader for President Trump.
Trump's repeated Twitter attacks on his own attorney general, Jeff Sessions, got CNS' attention, and it fell in line with the rest of the right-wing media to let Trump know that this was a bridge too far for them by hurling "news" articles and columns at the issue:
There's also a story about the White House press secretary being asked about "the conservatives rallying behind Sessions," and not one but two pleas from the MRC's favorite radio host-slash-business partner, Mark Levin, for Trump to leave Sessions alone.
Why, it's almost as if CNS has a highly partisan editorial agenda dictated from outside the organization that has nothing to do with actual news and everything to do with advancing its right-wing ideology.
UPDATE: So committed to defending Sessions is CNS that editor in chief Terry Jeffrey penned an entire column on it, asserting that "American [sic] needs an honorable person leading the Justice Department, which is why Attorney General Sessions needs to stay."
Posted by Terry K. at 8:41 PM EDT
Updated: Saturday, July 29, 2017 10:22 AM EDT