MRC Tries to Play The Clinton Equivocation to Defect From Trump Jr.'s Scandal
Topic: Media Research Center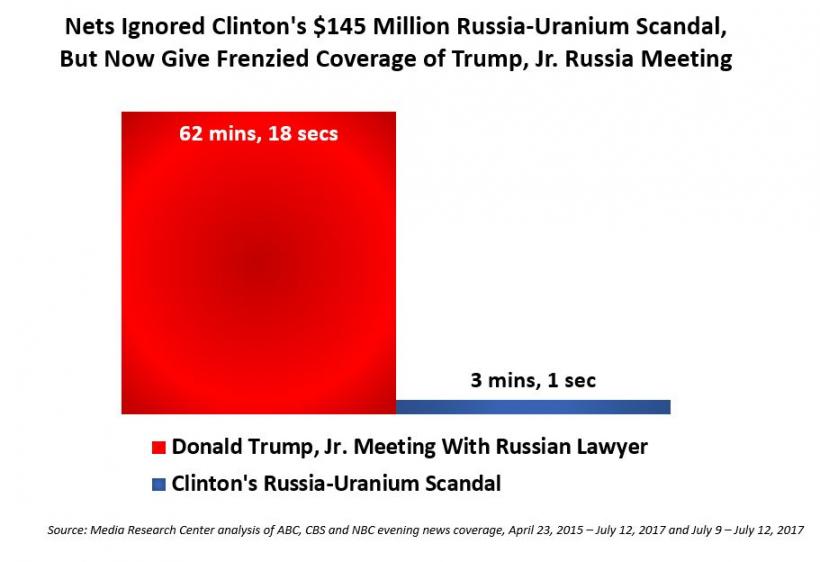 The Clinton Equivocation to deflect from Republican -- and now Trump -- scandals will never die at the Media Resarch Center, apparently. Geoffrey Dickens writes in a July 13 MRC post (boldface his):
The Big Three (ABC, CBS, NBC) evening news shows, in the last four nights, have been dominated by Donald J. Trump Jr.'s 2016 meeting with a Russian lawyer at Trump Tower – a meeting in which apparently no favors, money or meaningful information was exchanged – but those same shows all but ignored Hillary Clinton's Russia-Uranium scandal back in 2015.

Author Peter Schweizer, in his 2015 book Clinton Cash, broke the story that a Canadian uranium company, seeking approval of a sale to the Russian government from then Secretary of State Clinton's State Department, had donated millions to the Clinton Foundation.

At the time, then-Secretary of State Hillary Clinton was considered the favorite to win the Democratic nomination but the networks couldn't care less. Total amount of Big Three evening news network coverage of that story in over two years? Just 3 minutes and 1 second.

However, in just four nights the Big Three networks have swamped their evening news shows with 62 minutes and 18 seconds of Donald Trump Jr. coverage, or 20 times more than what they devoted to the Clinton Foundation uranium deal scandal.
Dickens leaves out a few inconvenient facts in recounting this -- namely, that this has since been revealed to be a partisan attack. As we've noted, Schweizer's book was funded by a group called the Government Accountability Institute, which was headed by one Steve Bannon, who later joined the campaign of Hillary Clinton's opponent, Donald Trump, and is now a top aide to Trump in the White House.
Dickens asserts that, according to Schweizer, "Bill Clinton was in Moscow for a particularly well-compensated speech" around the time that the deal was being considered. But as PolitiFact points out, the amount of money paid for that speech was not out of line with similar Clinton speaking engagements.
Dickens did concede that the uranium deal had to be signed off by "a committee, including Clinton's State Department, but also including the Departments of Treasury, Justice, Defense, Homeland Security, Commerce, and Energy, plus the U.S. Trade Representative, and the Office of Science and Technology," as well as the Nuclear Regulatory Commission, which meant that Clinton by herself could not either approve or stop the deal. But Dickens then claimed that Schweizer "countered that argument" during an interview; in fact, all Schweizer did was more conspiracy-mongering.
In other words, there's no actual scandal here, no matter how much the MRC quotes a Trump-associated hitman to claim otherwise.
The MRC's Clinton Equivocation is becoming a crutch to use instead of conducting genuine "media research."
Posted by Terry K. at 3:26 PM EDT