MRC Pretends Anti-Muslim Group Isn't Anti-Muslim
Topic: Media Research Center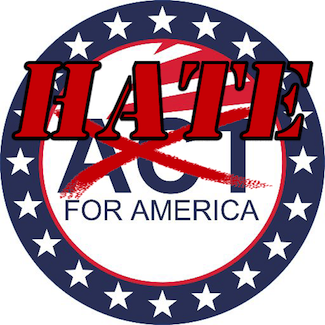 In the wake of last month's sparse protests organized by right-wing anti-Muslim group ACT! For America, Tim Graham wrote a post headlined "WashPost, NBC Smear Anti-Sharia Protesters as 'Anti-Muslim' 'Hate Group'." But in all his complaining that the group was designated as a hate group by "the radical-left Southern Poverty Law Center" and that stories about female genital mutiliation in America "underlines what the ACT members" are protesting, at no point does Graham explain how ACT! For America is not anti-Muslim.
Indeed, he proves the opposite -- that ACT! For America is indeed anti-Muslim and not merely "anti-Sharia" -- nby including in an excerpt from an NBC article a 2007 statement by ACT! For America leader Brigitte Gabriel that a "practicing Muslim ... cannot be a loyal citizen of the United States." Graham lets that statement go by without comment, going on to insist that the group is simply engaging in "conservative protest."
At the very end of the article, Graham includes a statement that explains why he's running to the group's defense: "Disclosure: ACT for America founder Brigitte Gabriel has been a featured speaker on our MRC Cruise."
In a June 20 NewsBusters post, Stephanie Schmitt took another stab at defending ACT! for America, declaring that the group isn't anti-Muslim because, well, they said they weren't, and that's apparently good enough for her:
ACT is fighting against those specific parts of Sharia Law that go directly against the democratic vision of human rights (honor killing, female genital mutilation, etc.) They are NOT looking to dismantle the Islamic faith. This is explicitly stated. And yet, the media's main representation of the march has all focused on its "hateful" cause and combating hate speech.
Schmitt didn't mention Gabriel's explicity anti-Muslim statement, nor did she disclose the group's relationship with the MRC. Instead, she rants that Teen Vogue magazine, which had called ACT! for America's agenda "hateful speech," was encouraging the "snubbing of free speech" and the the magazine is just trying to "push liberal talking points."
Schmitt didn't acknowledge that her job is to push conservative talking points -- one of which, apparently, is that ACT! for America is a mainstream group that doesn't hate Muslims.
Posted by Terry K. at 9:24 PM EDT