Another Bogus MRC Coverage Study, This Time Bashing CNN For Covering The News
Topic: Media Research Center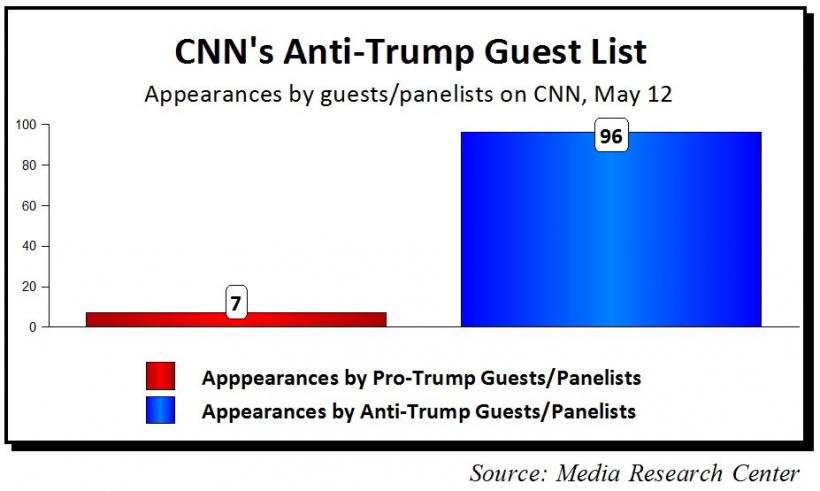 Another day, another bogus Media Research Center study.
The MRC tried to portray CNN as "Completely Obsessed With Donald Trump -- And Not In A Good Way," and the result was a May 16 item complaining that, um, CNN was covering the news. Rich Noyes writes:
To get a handle on CNN's news priorities during the Trump era, a team of MRC analysts reviewed all of the cable network's programming on Friday, May 12, starting with the 4am ET Early Start and continuing through the 11pm ET CNN Tonight with Don Lemon, a total of 20 hours of material.

After excluding commercials, teases and promos, our analysts found 13 hours, 27 minutes of actual news coverage, an average of just over 40 minutes per hour. Of that, a whopping 92 percent (12 hours, 19 minutes) was devoted to the Trump presidency, with a mere 68 minutes — a little more than three minutes per hour — devoted to all of the other news of the day.

With the exception of about 21 minutes of live coverage of a White House briefing about the President's upcoming trip to the Middle East and a smattering of coverage of Melissa McCarthy's parody of White House Press Secretary Sean Spicer in an upcoming SNL appearance, CNN used that time to endlessly analyze the President's firing of FBI Director James Comey, then a three-day-old story.

Much of that airtime consisted of interviews and panel discussions giving their assessment of Trump. MRC tallied 123 appearances by guests or panelists over the course of the day. Many of CNN's analysts showed up in multiple newscasts, each of which would count as a separate appearance. (There were 77 unique appearances by people identified as CNN analysts or commentators, or 62% of all guests).

The vast majority of all of CNN's guests that day (96, or 78% of the total) were Trump critics, compared to a handful of pro-Trump guests (just seven, or 6% of the total). Another 13 guests were neutral, and seven offered mixed assessments of the administration.
Remember, the MRC thinks there should be no negative coverage of Trump whatsoever, so these results are a lilttle skewed. While Noyes did concede there were "neutral" commetators on CNN -- which somehow didn't make it into the accompanying chart, all the better to push the "anti-Trump" storyline -- he does not account for neutral commentators who said negative things about Trump. Heck, he doesn't even acknowledge that Trump's firing of Comey is something that many neutral people might be critical of.
As usual, Noyes refuses to provide the full details of his research, like how he determined that CNN had 96 Trump-haters on in a single day. And while Noyes whines that Trump's firing of Comey was "a three-day-old story" at the time of his study, he doesn't explain why it's a story that should not be discussed for a third day. A president firing his FBI director under suspicious circumstances is a newsworthy story, and were Trump a Democrat, the MRC would agree.
Like the MRC's other bogus studies, this isn't "research" at all -- it's a political document. If the MRC actually cared about conducting legitimate research, we would have seen a study sometime during the previous eight years titled "Fox News Is Completely Obsessed With Barack Obama -- And Not In A Good Way."
Posted by Terry K. at 12:52 AM EDT