MRC Declares Victory in Hannity Boycott Fight, Finally Mentions Why There Is A Boycott
Topic: Media Research Center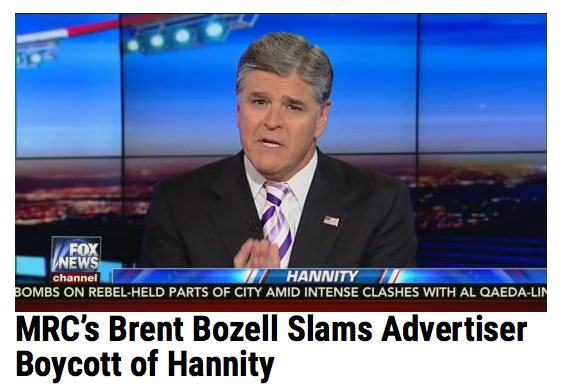 After days of attacking insurance company USAA for pulling its ads from Sean Hannity's Fox News show in response to an ad boycott over Hannity's insistence on pushing false, malicious conspiracy theories regarding the death of Seth Rich -- but without telling its readers the reason why the boycott existed -- USAA reversed its decision. Needless to say, the MRC was more than happy to declare victory.
A May 30 post by Curtis Houck repeated MRC chief Brent Bozell's smug declaration: "It goes without saying that USAA has not experienced this kind of customer outrage in its entire history."
Houck went on to grumble that "USAA withdrew its advertisement spots on Thursday from Hannity's FNC show after pressure from far-left organizations running a smear campaign in hopes of causing Hannity to lose his job." But curiously, Houck never explains how, exactly, Hannity was being "smeared."
It's only in an excerpt from that AP article farther down in his post that Houck inadvertently reveals the reason behind the boycott: As stated by the AP, Hannity was "reporting a discredited story involving the death of a Democratic National Committee staff member."
There. Now, was it that hard to tell the entire truth to your readers that you couldn't have mentioned it before now?
Posted by Terry K. at 7:34 PM EDT