Farah Still Pushing Lies And Myths About WND
Topic: WorldNetDaily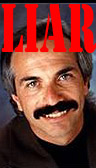 Joseph Farah is no stranger to pushing mythology about his WorldNetDaily website, and WND's 20th anniversary gives him a chance to do it again. Farah writes in his April 30 column:
Back when we launched, MSNBC.com was the No. 1 most visited website in the world. I vowed we would overtake them some day. I assumed that meant supplanting it as No. 1. While we eclipsed it in traffic more than 15 years ago, WND never became No. 1.
As we pointed out the last time he claimed this, MSNBC.com is no longer a news website -- that part of it is now NBCNews.com -- and is now focused on supporting shows on MSNBC.
Farah then engages in his usual blather about WND is dedicated to being a "guardian of liberty and another check and balance on government power," adding: "I took that seriously 20 years ago. And I saw most of the establishment press did not. In fact, I saw a cozy, symbiotic and unhealthy relationship developing between the corporate press and state power. I vowed WND would never fall prey or be seduced by that temptation."
That vow, of course, only applies to Democratic-led administrations -- Republicans administrations got, and continue to get, a free pass from WND. If Farah is serious about his pledge (and there's no evidence he is), he might want to have a chat with his reporter Chelsea Schilling, who just published a gushy, sycophantic profile of White House press secretary Sean Spicer that practically screams "cozy, symbiotic and unhealthy relationship."
Farah concluded by stating: "People are recognizing that they are being systematically lied to –- not just by powerful forces in government but by those who are supposed to be their watchdogs in the press." They're actually more in danger of being systematically lied to by Farah and WND, but he won't tell you that.
Posted by Terry K. at 8:49 AM EDT
Updated: Wednesday, May 10, 2017 2:18 PM EDT