MRC Declares Petulant War on Bill Nye
Topic: Media Research Center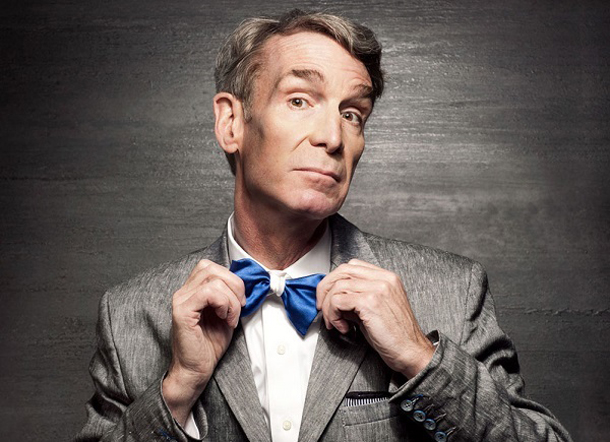 Bill Nye is promoting science, and the Media Research Center is not only not happy, it's being petulant about it.
In an April 25 post, Aly Nielsen rather lamely tried to denigrate Nye's scientific expertise, complaining that a TV reporter "declared 'scientists take to the streets to raise awareness,' over a clip of former stand-up comedian Bill Nye carrying a sign. That's misleading, since Nye is an engineer, not a scientist. He originally became 'The Science Guy' from his comedy routine."
Dan Gainor similarly whined in an April 27 post:
The alt-left claims to be all sciency. They want you to believe Bill Nye is The Science Guy, not because he is. But because they say so. Hell, he's a former stand-up comedian. He's the perfect metaphor for a Hollywood scientist -- all facade with nothing behind it.
That pedantic hair-splitting is rich, given how the MRC loves to refer to anti-abortion activist Alveda King as "Dr. Alveda King" even though her doctorate is honorary.
An April 27 post by Julia Seymour attacked new TV show by "the Boeing-engineer turned '90s children's TV host" for being "heavy on entertainment, light on science and filled with liberal propaganda." She further complained about an episode of the show focusing on the sexual spectrum that purportedly "preached gender fluidity as "forward thinking." She was particularly incensed about an animated short on the show that "was designed to bash religious proponents of conversion therapy for homosexuality, include multiple innuendoes and concluded with an actual ice cream orgy (all the flavors partying, in one bowl)."
On May 2, Tom Blumer repeated a pedantic right-wing meme by highlighting that a re-released 1996 episode of "Bill Nye the Science Guy" removed a segment on sex and chromosomes that allegedly didn't allow for transgenderism. Blumer lamented the disappearance of "this inconvenient, truth-containing segment."
This is the best the MRC has to bash Nye with? If so, that would seem to back up the scientific soundness of Nye's work.
Posted by Terry K. at 2:08 PM EDT