WND's Weekend of Seth Rich Conspiracies
Topic: WorldNetDaily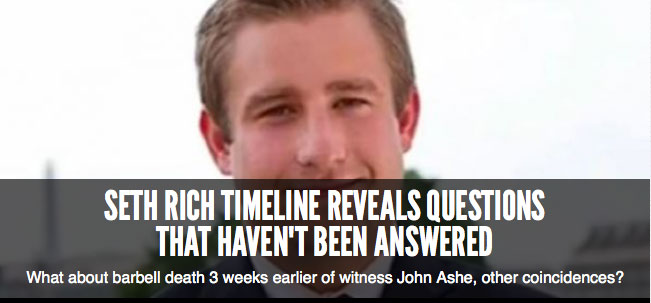 WorldNetDaily had a busy holiday weekend of trying to perpetuate those Seth Rich conspiracies.
First, WND served up a Seth Rich timeline from birther dead-ender and former WND columnist Diana West that tries to wrap in other conspiracies like the death of John Ashe, whom WND writes "had been scheduled to report to court shortly after this date, along with Ng Lap Seng, as part of a fraud case alleging payola"; Seng was linked to alleged Clinton administraiton corruption, which somehow makes this an entry on the discredited "Clinton body count." But as we pointed out a year ago, legal action against Ashe had nothing to do whatsoever with any Clinton.
WND also touted claims made by "private detective" Rod Wheeler without mentioning the important fact that Wheeler has since retracted much of what he has said about the Rich case.
Another article, by Alicia Powe, pushed unsubstantiated speculation by agenda-driven "private investigators" like sleazy lobbyist Jack Burkman tnat Washingtion, D.C., Mayor Muriel Bowser "has ordered a halt to the investigation" into Rich's death.
WND columnist Gina Loudon then jumped aboard the Rich conspiracy train, asserting that "I am beginning to change my mind upon studying the behavior and psychology of the left." Loudon, if you'll remember, made an armchair diagnosis of Barack Obama as a mentally ill psychopath but proclaimed Trump's narcissism and egocentricism to be "great attributes for a true leader" and that he "seems mentally sound," so her proclamations about psychology shouldn't exactly be trusted.
WND then took comfort that a fellow fringe-right media outlet has joined the conspiracy, touting how tiny cable TV channel One America News is "boosting the reward for information leading to the arrest and conviction of the slain Democratic National Committee employee's killer or killers by an additional $100,000 and issuing a step-by-step report on why the mysterious death is more than a 'conspiracy theory.'"
WND also cheered the appearance of another right-wing ally, with Bob Unruh happily writing that "The chief of the government-accountability group Judicial Watch contends there's 'credible evidence' that needs to be addressed in the murder investigation of Democratic National Committee staffer Seth Rich." This from an organization obsessed with President Obama's vacation expenses but are somehow less concerned with the mounting costs of Trump's weekends at Mar-a-Lago.
So the conspiracy continues -- as does the plunging of whatever credibility WND and Judicial Watch might have at this point.
Posted by Terry K. at 9:00 PM EDT
Updated: Tuesday, May 30, 2017 9:10 PM EDT