Fake News At WND, Unvaccinated Muslim Division
Topic: WorldNetDaily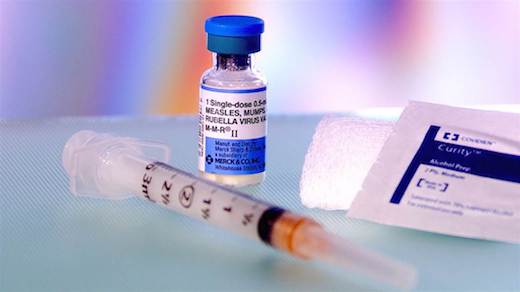 Last week, we reported how WorldNetDaily's Leo Hohmann tried to blame a measles outbreak in a Somali-American community in Minnesota on the religion of Islam itself -- despite the fact that the Muslim doctor he cited as proof of this has been promoted by anti-vaxxer outlets WND itself has treated as credible.
Well, it turns out that non-Muslim anti-vaxxer activists -- not Muslims -- are fanning anti-vaccine fear that led to the outbreak.
The Washington Post reports that activists repeatedly invited Andrew Wakefield -- a disbarred doctor whose claims linking vaccines and autism have been thoroughly discredited -- to speak to residents and spread his anti-vaxxer conspiracy theories.
WND has promoted Wakefield's discredited claims as recently as 2016, when columnist Barry Farber touted the anti-vaxxer film made by "distinguished research gastroenterologist" Wakefield and likened vaccine defenders to "the fanatical war-time Japanese defended their Emperor Hirohito." WND's Bob Unruh later repeated Farber's praise for Wakefield in an article defending a woman who opposed vaccinating her children on religious grounds.
The Post also noted that anti-vaxxer ativist Mark Blaxill also spoke to the Somali community in Minnesota. Blaxill's work was approvingly cited in a 2015 column by Robert Kennedy Jr., who wrote a series of anti-vaccine columns for WND around that time.
In other words, WND's own anti-vaxxer fellow travelers -- not Islam or the Quran -- are responsible for creating this measles outbreak. Hohmann is simply creating fake news by fearmongering about Muslims for something his own side did.
That's dishonest journalism in the extreme. But does anyone expect anything less from WND?
Posted by Terry K. at 9:07 AM EDT
Updated: Monday, May 8, 2017 11:27 AM EDT