CNS Hyped Lurid Rape Allegations Against Immigrants -- But Is Silent On Charges Being Dropped
Topic: CNSNews.com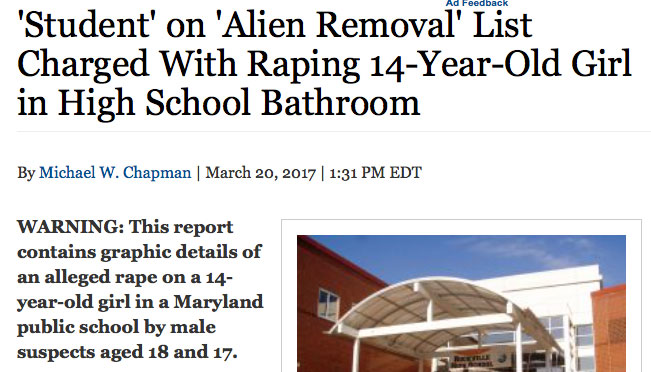 In March, CNSNews.com was all over the case of an alleged rape at a Maryland high school of a 14-year-old girl by two undocumented immigrants.
CNS managing editor hyped on March 20 how "the young girl allegedly was brutally raped and sodomized by both of the suspects." He luridluy touted in a editor's note that his article would include "graphic details" of the alleged incident, and later added another flag stating, "WARNING: The material below is sexually graphic and disturbing." Chapman even included pictures of the police incident report.
Two days later, Melanie Arter uncritically reported the Trump White House's statement on the case of "the alleged rape of a 14-year-old girl in the boys bathroom of a Maryland high school last week by two male students - one of whom was on an 'alien removal' list."
On March 24, CNS' Susan Jones -- seemingly appalled that the suspects would even be permitted to defend themselves -- quoted the attorney for one of the suspects arguing that the contact between his client and the alleged victim was consensual and "was not a rape in any sense." She later huffed that "the attorney refused to say who is footing the bill" for his client's defense.
CNS also published a column by their Media Research Center overlords Brent Bozell and Tim Graham's complaining that the incident wasn't being hyped enough in the media and insisting that "An immigrant convicted of raping or killing someone is an inconvenient fact if you're a liberal."
So that's three original articles and a column that CNS published on the case, as well as several Associated Press articles.
Last week, however, prosecutors dropped the rape and sexual assault charges against the two immigrant students, citing a lack of corroboration and numerous inconsistencies. And for CNS and its MRC parent, that's become an inconvenient fact.
While the MRC side has been deflecting criticism for hyping a story that turned out to be false by insisting that, hey, it could have been true, the silence is deafening at CNS. Our search of CNS' archives found no story whatsoever, either original or from the AP, on the charges being dropped.
And once again, CNS' mission statement to "fairly present all legitimate side of a story" has been trashed. Unless, of course, it doesn't consider dismissal of charges against undocumented immigrants to be a "legitimate" story compared with hyping of lurid allegations that apparently turned out to be false.
Posted by Terry K. at 6:02 PM EDT