Farah's Lying Again: No, WND Didn't Break HSBC Scandal
Topic: WorldNetDaily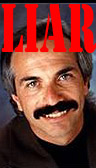 It's amazing how desperate WorldNetDaily is to be taken seriously as a news organization, despite years ruining that credibility through its obsessive hatred of President Obama and the lies and unfounded rumors it presented as fact.
That Obama-hate has popped up again in a hail-Mary attempt to stop the nomination of Loretta Lynch as attorney general. WND is now trying to bring up her alleged role in brokering a deal in which banking giant HSBC paid a $1.9 billion fine to settle charges of money-laundering for drug cartels.
This being WND, no actual evidence is offered that Lynch did anything wrong. Jerome Corsi's Feb. 6 article on the subject states merely that there may be documents that "could implicate Lynch in a massive cover-up of Obama administration involvement in international money-laundering of Mexican cartel drug money."
A Feb. 12 article by Corsi also identifies no actual wrongdoing; he suggests without evidence that Lynch helped HSBC "escape criminal prosecution" in the case -- as if a $1.9 billion fine is escaping criminal prosecution. Corsi also cites Rolling Stone's work on the case; just a few weeks earlier it was attacking Rolling Stone for its now-discredited story about a rape at the University of Virginia. All is forgiven when you parrot WND's agenda, apparently.
This being WND, this story has also led to WND straining an arm trying to pat itself on the back for breaking the story on HSBC's money-laundering. In a Feb. 10 article, Drew Zahn proclained that "The rest of the media are finally catching up to what WND has been reporting for years." And WND editor Joseph Farah blustered in his Feb. 19 column:
Question: Which news agency and which reporter uncovered the massive money-laundering operation for drug dealers and terrorists at mega-bank HSBC, which has now tied to the confirmation hearings for Loretta Lynch, Obama's nominee to succeed Eric Holder as attorney general, who was in charge of the investigation that resulted in no criminal charges, no firings of officials and no meetings with the whistleblower who was fired for his efforts?

Answer: That's right, it wasn't Brian Williams. It wasn't any of the world's renowned financial reporters. It wasn't any of the big, establishment news agencies.

It was, once again, Corsi and WND, who scooped the world with a series of stories in 2012 that had significant consequences for both the reporter and news agency. Corsi, who moonlighted as a financial adviser for a New York bank, was let go as a direct result of his investigation. And HSBC targeted WND by using its power and influence with upstream Internet providers to launch a denial of service attack that lasted several hours before the news agency was able to intercede and restore service.
This being WND, Farah is lying, as he did in July 2012 when he also asserted that WND was "the news agency that actually broke the news about HSBC's money-laundering schemes."
As we've documented, other news organizations had reported on the HSBC scandal a full week before WND's first article -- which acknowledged earlier reporting on HSBC. WND's contribution was detailing the claims of ex-HSBC employee John Cruz, who provided WND with "1,000 pages of evidence" of alleged HSBC wrongdoing. But the Senate subcommittee that investigated HSBC did not interview Cruz, which raises questions about the value of Cruz's information.
Farah's claim that Corsi lost his job at an bank where he "moonlighted" raises another question he has yet to answer: Why is Farah apparently paying his supposedly valuable "senior staff writer" so little money that he has to have a second job? And it's no like Corsi's moonlighting employer, Gilford Securities, was all that proud to claim him; as we've noted, much of Corsi's work during the time he also worked there carried a disclaimer that "The views, opinions, positions or strategies expressed by the author are his alone and do not necessarily reflect Gilford Securities Incorporated's views, opinions, positions or strategies."
Farah then goes on to huff: "Good journalism should be rewarded – just as bad journalism should be punished." But Corsi is a veritable font of bad journalism -- from peddling bogus documents to reporting out-and-out lies to hiding the false nature of his birther conspiracy theories.
And given Farah's effusive praise, it's clear that Corsi's bad journalism has never been punished at WND -- it's celebrated. Which puts the lie to Farah's claim that WND is "fearless in our pursuit of truth."
Even if WND is somewhat correct in its HSBC story, it has crapped the bed so many times before that there's no reason to believe anything it says. Farah apparently still hasn't learned that basic lesson in journalism.
Posted by Terry K. at 10:32 AM EST