MRC Puts Univision Host Jorge Ramos In Its Crosshairs
Topic: Media Research Center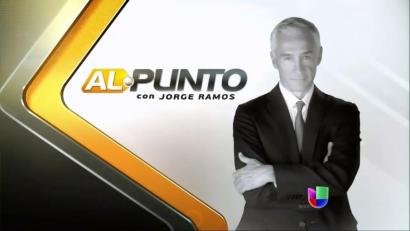 Jorge Bonilla -- the current face, near as we can tell, of the Media Research Center's MRC Latino operation -- starts his Jan. 30 NewsBusters post rather boldly:
The central premise of a recent New York Times article is simple enough: If only Republicans were to submit to Univision (and, by extension, anchor Jorge Ramos) on immigration, then they may receive more favorable coverage that does not depict them to the network's Hispanic viewership as hateful, racist, anti-immigrant monsters, and then they may have a chance to garner more of the Hispanic vote, with the blessing of the community's self-appointed gatekeeper.
Bonilla, however, couldn't be bothered to actually quote from the Times article he's attacking, so apparently he wants us to take his word for it.
Thus, unambitious NewsBusters readers will miss the part of the Times article pointing that Ramos, in addition to being critical of Republicans' anti-immigration stance, has called out President Obama for "breaking his 2008 campaign promise — made directly to Mr. Ramos — that he would propose an overhaul of the nation's immigration system in his first year in office, and for deporting two million people since."
Bonilla quickly ratchets up the rhetoric, accusing the Times (and, by extension, Ramos) of figuratively (or maybe literally) wanting to kill interview subjects:
The first thing that comes to mind with the Times' take on the subject is a sense of (with apologies to Yogi Berra) déja vu all over again. What we are witnessing here is the return of the nasty plata o plomo tactics (literally "silver or lead" - the Spanish phrase that means you either cooperate by giving a bribe, or you get a bullet) previously deployed during Univision's 2011 war on Senator Marco Rubio.
Apparently, holding Republicans accountable on immigration is much worse than, say, suggesting that those doing so are engaging in violence, figuratively or otherwise.
In case it isn't clear, Bonilla and the MRC have Ramos in their (figurative) crosshairs for the sin of not spouting conservative rhetoric on immigration. Indeed, five of Bonilla's last seven NewsBusters posts are focused on Ramos.
Bonilla takes another shot at Ramos in a Feb. 16 post, sneering that Ramos "is fond of reading his own press" and that conservative attacks on him are "legitimate." Then Bonilla -- who accused Ramos of "plata o plomo tactics" -- complained that Ramos "had the audacity to complain that conservatives want to SILENCE him as a result of his biased coverage."
Bonilla then complains that "No journalist that encourages activism, abandons neutrality, and routinely spits out partisan talking points should expect to go unchallenged." If Bonilla is really serious about challenging biased journalists, he doesn't even have to leave the MRC headquarters to do so -- he can read the bias at CNSNews.com.
Posted by Terry K. at 10:26 PM EST
Updated: Monday, February 16, 2015 10:32 PM EST