MRC Gives Fox News A Pass On Airing Terrorist Video
Topic: Media Research Center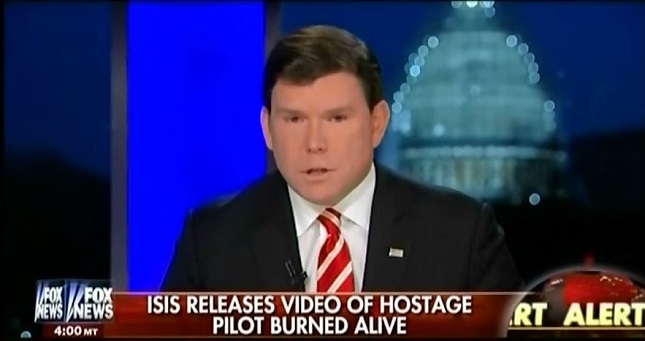 The Media Research Center normally frowns on media outlets airing videos made by terrorists. MRC chief Brent Bozell (well, to be perfectly accurate, his deputy Tim Graham) has denounced al-Jazeera as "a video jukebox for Osama bin Laden and other Arab terrorist fanatics."
But when Fox News was the only major media outlet to air graphic footage from an ISIS video showing a Jordanian pilot being buried alive -- then posted the full, unedited video on the Fox News website -- Bozell and his MRC crew had nothing to say about it.
A search of the MRC and NewsBusters websites found no statements whatsoever on Fox News serving as the PR agent for terrorists as numerous media and terrorism analysts condemned it --hen Fox's in-house media critic, Howard Kurtz, said he disagreed with the corporate decision to air the video because "we are helping spread the fear that ISIS so badly wants to spread."
This is another example of the MRC refusing to apply its own standards against those with whom it ideologically agrees. We've detailed how the MRC wouldn't criticize "60 Minutes" reporter Lara Logan for bungling a story on the Benghazi attack because her distortions and falsehoods furthered the right-wing agenda to exploit Benghazi against President Obama.
Posted by Terry K. at 9:12 PM EST