Why Is MRC's Graham Putting 'Reverend' In Scare Quotes for Sharpton?
Topic: NewsBusters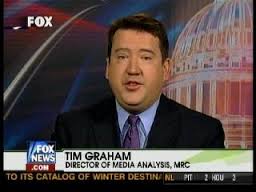 Tim Graham does a curious thing in his Feb. 14 NewsBusters post attacking Al Sharpton: When referring to Sharpton, he puts "Reverend" in scare quotes. Those scare quotes, though, create the impression that Graham believes Sharpton isn't a real reverend -- even though he's an ordained minister -- because he believes evolution exists:
"Reverend" Al Sharpton isn't too big on the Bible, certainly not on the tale that God created the world and everything in it. MSNBC tweeted out Sharpton's Thursday night segment where he wished his viewers and guests "Happy Darwin Day" three times, and mocked Gov. Scott Walker for skipping an evolution question in a London interview.

A snarky commenter on MSNBC.com noted that Sharpton was pushing Darwin, whose book The Origin of Species was also titled The Preservation of Favoured Races in the Struggle for Life. Uh-oh, Rev.
As explained on Wikipedia, Darwin's use of "race" is a synonym for "varieties," not the modern connotation of human races; the first use of the word in the book refers to "the several races, for instance, of the cabbage" and proceeds to a discussion of "the hereditary varieties or races of our domestic animals and plants." Graham might want to vet the random "snarky commenters" from whom he gets his inspiration a little more closely.
Nevertheless, Graham then goes on to claim, "Apparently, in other books, Darwin expressed the thought the 'Negro' was inferior, and 'the civilised races of man will almost certainly exterminate and replace the savage races throughout the world.' That might be worth a segment." Interestingly, the link Graham provides as evidence of this -- from a blog by John S. Wilkins focused on evolution -- points out that Darwin's clinging to the racial stereotypes pervasive in his era actually contradict his theory of evolution:
Why does Darwin do this? In the early days of a theory or new view, it is hard to puzzle out all the ramifications of the idea, and to isolate it from superficially similar ideas already in the air. Darwin's notion of evolution does not require progress, or inferior versus superior races, but he's being led down that path by the culture around him, and the fact, after all, that he is a member of a privileged class (historically fairly recently so) of an imperial society, with a history of devaluing those who were not in control. It turns out, Darwin is human after all.
Anyway, the implication remains that Graham appears to believe Sharpton isn't a real reverend because he acknowledges evolution. So we asked him via Twitter:
Graham's
first response
: "He's a RINO. Reverend In Name Only. Starts with refusing for decades to acknowledge his sin in the Brawley hoax."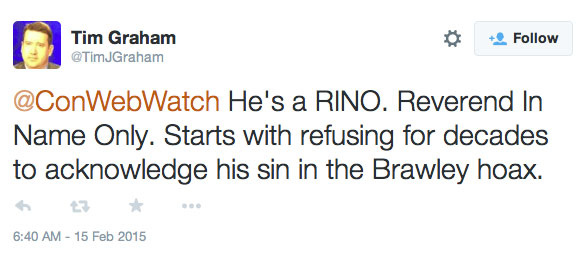 Fair enough; it's a legitimate criticism. Then he
added
: "And it's funny he's channeling the Darwinists and science against Christian conservatives, like he's Ricky Gervais."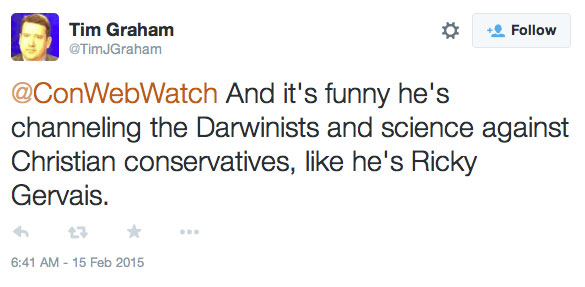 That seems to confirm that, in Graham's view, evolution is incompatible with being a "real" Christian, and definitely not compatible with being a Christian minister.
Then we asked Graham if the MRC would start putting scare quotes around "Dr." when referring to anti-abortion activist Alveda King -- after all, unlike Sharpton's title, King didn't earn hers; the doctorate is honorary. Graham didn't respond.
Posted by Terry K. at 9:12 PM EST
Updated: Tuesday, February 17, 2015 9:48 PM EST