WND Skewed Poll Watch
Topic: WorldNetDaily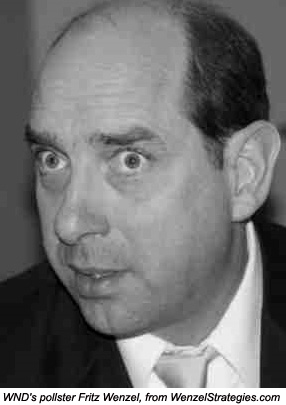 Bob Unruh touts the latest work of WorldNetDaily's ethically challenged pollster in a July 5 WND article:
Americans by large margins believe that despite President Obama's claims of innocence, he not only knew of the Internal Revenue Service strategy to target conservatives, he used the feared federal agency for payback against his political enemies, according to a new poll.

"An overwhelming majority of 68 percent said they believe Obama was aware of the IRS efforts to target his political opponents, and 63 percent said they believe that, not only did he know of this effort, he was directly involved in the plan," explained Fritz Wenzel, whose Wenzel Strategies conducted the poll.
That's the result WND wanted, and Wenzel made sure it happened by asking skewed questions designed to generate that result.
Here are the questions Wenzel asked:
There has been a lot of attention to issues involving the Obama administration and the Internal Revenue Service's targeting of conservative groups to delay their applications for status as non-profit groups, while fast-tracking certain liberal groups to receive the same preferred tax status. How interested are you in news developments about this issue?"
How would you rate the job performance of President Barack Obama regarding the IRS?
At the time when the IRS was targeting conservative groups, the head of the IRS was visiting the White House for meetings more than 150 times. The previous head of the IRS visited the White House just one time during the time that he served as the leader of the IRS. Do you agree or disagree that this level of ongoing communication with the Obama administration indicates that the Obama administration was deeply involved in the discrimination against conservative groups?
Do you agree or disagree that President Obama personally must have known about the IRS's targeting of conservative groups?

Do you agree or disagree that President Obama not only knew about but was somehow involved in the IRS's targeting of conservative groups?

Please tell me if you agree or disagree with this statement: The IRS targeting of conservative groups was directed by the White House to punish political enemies.

Do you agree or disagree that, given the highly charged partisan atmosphere in Washington right now, that an entirely independent investigator should be appointed to get to the bottom of this story involving the IRS, the White House, and the tea party groups around the country?
Wenzel primes the desired response by repeating a bogus talking point about White House visits by the IRS commissioner, Douglas Shulman. In fact, Shulman was merely cleared for entry 157 times, which does not reflect the apparently far fewer number of times Shulman actually visited the White House. Further, of those clearances, the vast majority were for discussion of health care reform.
Wenzel also ignores the fact that the IRS also targeted liberal nonprofit groups for extra scrutiny. But that would have interfered with the poll results WND was paying him to deliver.
Posted by Terry K. at 9:20 PM EDT