WND's Alexander Still Pushing The Big Lie In Arizona
Topic: WorldNetDaily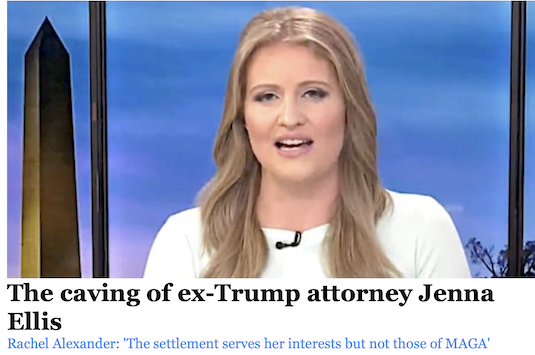 Rachel Alexander has been WorldNetDaily's biggest promoter of the discredited claim that there was election fraud in Arizona that kept Republicans like Kari Lake from winning, and she's not letting an utter lack of credible evidence stand in the way of contining to push that conspiracy theory, writing in her March 6 column:
As Arizona experiences a repeat of the 2020 election with 2022, where MAGA candidates allegedly lost to poor Democratic candidates like Katie Hobbs who refused to debate, some are turning on the MAGA candidates and blaming them instead of election fraud. The candidates' lawsuits are predictably going nowhere, as judges throw them out for supposed "lack of evidence" or narrow technical reasons such as "lack of standing."

The judges pretend that witness testimony and affidavits don't constitute evidence, but every first-year law school student learns that of the 11 sections of the traditional Rules of Evidence in law, an entire section, section 6, is devoted to witness testimony. Witness testimony throughout history has been the smoking gun in many cases; defendants have suffered the death penalty based on witness testimony alone.
Well, there's evidence and there's credible evidence, and Alexanderofered no proof that the former is the latter. Instead, she touted how Lake still has a chance:
Lake's appeal brief is one of the best in all of the election lawsuits. It should be a slam dunk especially considering there is precedent; the Arizona Supreme Court once overturned a gubernatorial election where fraud was alleged and replaced the Democrat who had been in office for months with the Republican. Judges routinely overturn elections around the country where there was voter disenfranchisement and don't require the excessively high standards of proof we're seeing when Republicans lost or were disenfranchised. For example, in 2019, a judge ordered a new election for a Georgia House seat based on merely finding that four voters were ineligible.

But judges cannot rule in favor of election integrity when it helps Republicans because they are terrified of what the left will do to them and their careers. The type of person who becomes a judge is someone who isn't looking for the spotlight; most judges go their entire careers with very few headlines about them. If you look their names up on the internet, you can rarely find anything about them. They have relatively quiet, peaceful lives outside the public eye, and they live well with generous salaries.
The instance of a gubernatorial election being overturned "where fraud was alleged" happened in 1916 -- just four years after Arizona became a state, meaning that frontier justice had not yet been eliminated -- so that may not have been the best example Alexander could have used. She spent the rest of her column railing against judges for not being the right-wing lapdogs she demands them to be.
In her March 20 column, Alexander complained that Trump attorney agreed to getting censured for spreading election falsehoods (and, even worse, pointed out that Lake is scamming people by perpetuating a lie):
Earlier this month, Ellis quietly settled the case. She admitted to spreading "misrepresentations" "with at least a reckless state of mind." For these concessions, which are very damaging to Trump and his cause, Ellis escaped with a censure for professional misconduct from the Colorado courts. Based on her tweets, Ellis appears now to be leaning toward Florida Gov. Ron DeSantis over Trump for president in 2024, although a year ago she offered to represent Disney against DeSantis.

Ellis' censure deal required her to say she had misled Americans with statements such as, "The election was stolen and Trump won by a landslide." And, "The proper and true victor … is Donald Trump." These are statements most Republican voters believe are true, according to polls. A Quinnipiac poll found that 76% of Republicans believe there was widespread fraud in the 2020 election.

Immediately before the censure was announced, Ellis tweeted that Kari Lake was a "grifter" for appealing her alleged gubernatorial loss in Arizona. While there's only a slim chance any judges will dare rule that there was voter suppression since it affected Republicans, Lake's supporters would be devastated if she dropped the battle to expose corruption, especially since more information continues to come out, including an exit poll finding that an astounding 8% more voters chose her over Katie Hobbs.

[...]

It's a Pyrrhic victory for Ellis, since she will continue to have the state bar hanging over her head, ready to pounce if she dares to say anything "controversial" again. The settlement serves her interests but not those of MAGA. Increasingly, zealous advocacy of a client's interests is allowed for criminal defendants and causes of the left, but few others. The right's lawyers, if they dare speak at all, must stick to the most humdrum of legal theories and narratives, or they risk professional sanctions or even bogus prosecution.

Caving in to the left-wing fascists is the last thing powerful figures on the right should be doing if we ever hope to stop election fraud and legal corruption. The 65 Project is currently going after a long list of attorneys on the right, and Ellis' surrender will be used against them as precedent.
We weren't aware that making liars face consequences for their lies is something "left-wing fascists" do.
Alexander's March 27 column was devoted to gushing of Ryan Heath, an attorney for Lake who sued a judge over the election-fraud stuff, going on to cheer, "He's filed and threatened lawsuits over face masks, CRT and mutilating children in the name of 'affirmative care.'" As Wonkette's Liz Dye has noted, Heath is also an anti-vaxxer and wrote "the greatest footnote of all time" to explain that he didn't sue the state in 2020 despite the fact the same exact election procedures were used then because he had just graduated from law school and "this election cycle is the first opportunity Petitioner has ever had to challenge this process."
Rather than note any of that, Alexander declared that "Unlike some attorneys who cower when it comes to election fraud and other areas where patriots are under attack, Heath is taking the exact opposite approach. In response, the left has filed six frivolous bar complaints filed against him in two separate states." She didn't explain what, exactly, was "frivolous" about those complaints." She conlcuded by encouraging her readers to donate to him.
Posted by Terry K. at 6:54 PM EDT