CNS' COVID Coverage: Biden-Bashing and Reverse Mask-Shaming
CNSNews.com has switched from downplaying coronavirus deaths under Trump to playing mask gotcha with the Biden administration.
By Terry Krepel
Posted 7/12/2021
---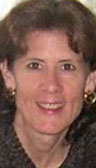 Susan Jones
As the coronavirus epidemic has wound down, so has CNSNews.com's coverage of it -- from winding down its coverage of COVID deaths way too early to playing gotcha on mask-wearing.

ConWebWatch has documented how CNSNews.com -- mostly reporter Susan Jones -- spent much of 2020 laboring to put a pro-Trump spin on coronavirus case and death numbers. But as deaths surged after the November election that Trump lost, CNS' interest in doing them dwindled to the point that it hadn't done one since December. When COVID deaths in the U.S. passed the 500,000 mark in February, CNS grudgingly marked the occasion.

An anonymously written Feb. 22 article noted that "House Speaker Nancy Pelosi (D.-Calif.) issued a statement on Monday expressing her sorrow for the reported 500,000 lives that have been lost in this country as a result of the COVID-19 pandemic." Even then, the anonymous writer nitpicked the count by highlighting that "The Johns Hopkins University website on Monday was reporting that the total number of U.S. deaths as a result of COVID-19 was 499,186."

CNS published this with the deliberately vague headline "Nancy Pelosi: 'Every Life Lost is a Profound Tragedy'" -- which hid the actual context of the article -- and illustrated it with a file photo of Pelosi holding a baby, an apparent potshot at Pelosi's support for abortion rights, a partisan political statement that was also irrelevant to the article's subject matter.

Jones returned to action on her abandoned beat in an article the next day, which she began by highlighting an even lower number:
Since January 2020, the federal Centers for Disease Control and Prevention has kept weekly counts of "COVID-involved" deaths in the United States, based on death certificates that are submitted on a lagging basis to CDC's National Center for Health Statistics.

As of Feb. 22, CDC's official COVID death toll was 467,585. CDC also counts 3,715,704 "deaths from all causes" since January 2020.
Jones then seemed to be complaining that she had to do this article at all, claiming that marking the death toll was making it"politicized" before ultimately explaining while the CDC number is so low:
So the 467,585 COVID-involved deaths are 12.58 percent of total deaths from all causes. (CDC defines COVID-involved deaths as those with "confirmed or presumed COVID-19, coded to ICD–10 code U07.1.")

Almost every death, from whatever cause, brings pain and sorrow. But COVID deaths have been politicized to the point where they get special mention and attention, as they did Monday night when President Joe Biden and his wife marked a moment of silence for those killed by the virus.

Biden was marking the occasion of at least 500,000 U.S. deaths attributed to COVID. (The CDC count lags other tallies, based on when death certificates are received.)
Jones forgot to mention that she spent the past year politicizing COVID death numbers, downplaying summer and fall surges by comparing them to the initial surge last spring -- or that a CNS article the previous day dishonestly politicized a statement by Pelosi.
Jones never dedicated another article to COVID deaths again, even as they eventually climbed past 600,000.
Meanwhile, CNS editor in chief Terry Jeffrey tried his hand at minimizing things, first serving up this bit of spin in his March 17 column:
American children 14 years and younger are more likely to be murdered than to die because of COVID-19, according to data published by the Centers for Disease Control and Prevention.

[...]

These 911 murdered children were not some abstract statistic. They were human beings — at the beginning of their lives. Had the major television networks and newspapers been inclined to treat this pandemic of child murder as a major story, they could have led with it every day — telling the stories of the young and innocent victims, revealing the facts about those who murdered them, and following the actions of the law enforcement officers and prosecutors responsible for bringing those murderers to justice.
It seems, though, that Jeffrey is treating children who died of COVID as abstract statistics and not human beings because there weren't enough of them for him to turn into a cause. Does he think that all of the 600,000-plus U.S. deaths of all ages from COVID -- which CNS spent the past year minimizing -- are an abstraction too?
Jeffrey did something similar in a March 27 "news" article:
Of the 526,028 deaths in the United States involving COVID-19, as officially reported by the Centers for Disease Control and Prevention, 238 have been in children 17 and younger.

That equals 0.04 percent of all COVID-19 deaths reported in the United States.
But Jeffrey gave up on that angle as well, with CNS choosing instead to do things like publish an April 21 rant by anti-vaxxer Michelle Malkin complaining that children "are being bombarded by an inescapable public relations campaign by all the Bigs — Big Pharma, Big Government, and Big Tech — to brainwash them about the COVID vaccine," adding, "While children under 18 remain at the lowest risk of COVID-19, peer pressure to get the experimental jabs is enormous."
Reverse mask-shaming
Without a major COVID outbreak to exploit or deflect from, CNS had to figure out a different way to keep its partisan agenda alive on the subject. CNS has deeply drunk the right-wing Kool-Aid on opposing mask mandates and masks in general, and it's not afraid to play a bizarre form of reverse mask-shaming on President Biden and others in his administration -- as we've noted, CNS enjoys taking shots at Biden for even briefly not following their own mask mandates, even though CNS opposes wearing masks -- for example, it has touted Republican Sen. Rand Paul insisting that mask questions are being driven by "emotionalism," and his strange declaration that "If you want more people to get vaccinated, Joe Biden should go on national TV, take his mask off and burn it" (no mention of the fact that Paul has refused to get vaccinated).
CNSNews.com gave Dr. Jim Meehan space for a column on March 10 (bolding in original):
A response to people who use the classic fallacious argument, "Well, if masks don't work, then why do surgeons wear them?"

I'm a surgeon who has performed more than 10,000 surgical procedures wearing a surgical mask. However, that fact alone doesn't really qualify me as an expert on the matter. More importantly, I am a former editor of a medical journal.

I know how to read the medical literature, distinguish good science from bad, and fact from fiction. Believe me, the medical literature is filled with bad fiction masquerading as medical science. It is very easy to be deceived by bad science.

Since the beginning of the pandemic, I've read hundreds of studies on the science of medical masks. Based on extensive review and analysis, there is no question in my mind that healthy people should not be wearing surgical or cloth masks. Nor should we be recommending universal masking of all members of the population. That recommendation is not supported by the highest level of scientific evidence.
CNS describes Meehan as "a physician, entrepreneur, and accomplished leader who provides novel science and solutions that conform to honest, open, transparent, and patient-centered principles." It also noted that Meehan's column "originally appeared on Principia Scientific International."
CNS is not going to tell you that Principia Scientific International is filled with conspiracy theories and pseudoscience. And it's definitely not going to tell you that this description also fits Meehan himself, as a report on a hearing he testified at in his native Oklahoma details:
Meehan is a licensed medical doctor who operates in Tulsa. His Oklahoma Medical Board profile lists his specialties as general preventive medicine, nutrition and addiction medicine. He often preaches against vaccines on and wearing face masks on Twitter.

In his Twitter bio, Meehan lists hashtags for "Medical Freedom," a popular tag for the anti-vaccine movement, and for QAnon, a far-right fringe conspiracy that believes a group of Satan-worshipping pedophiles runs a child sex-trafficking ring across the world that also schemes against President Donald Trump. Some members of QAnon believe Trump is secretly sending them coded messages on various websites to update them.

In 2019, the FBI described QAnon as a domestic terror threat.

At one point in the hearing, Meehan said that an overabundance of skin pigment prevents the sun from killing the coronavirus inside the bodies of people of color and they should take more vitamins to keep from getting sick. There is no scientific evidence for that claim.
Further, a judge ruled that Meehan was not qualified to speak as an "expert witness" in a Connecticut lawsuit fighting against a mask mandate because he lacks specific expertise and holds anti-science views, adding that "while Meehan is an expert ophthalmologist, he was not credible to testify on the subject at hand since he has not done any work related to COVID-19."
So CNS published an eye doctor who has no expertise in treating coronavirus to opine on wearing masks. The creeping WND-ization of CNS continues.
Yet eight days after this commentary was posted, a March 18 article by Patrick Goodenough attacked someone for not wearing a mask:
President Biden's special climate envoy John Kerry dismissed as "malarkey" a social media kerfuffle sparked by a photo showing him not wearing a mask while on an American Airlines domestic flight on Wednesday.

"Feels like there's some St. Patrick's day 'malarkey' afoot on Twitter," Kerry tweeted on Wednesday night. "Let's be clear: If I dropped my mask to one ear on a flight, it was momentary. I wear my mask because it saves lives and stops the spread. It's what the science tells us to do."
Goodenough then followed with five paragraphs of criticism of Kerry, plus two more paragraphs consisting of a statement from "the passenger who purportedly took the photo" -- but all he did for the sake of balance is note in passing that "Other Twitter users defended President Biden's climate czar, suggesting that he may have been about to eat or drink." (Could Goodenough not be bothered to verify that information?) That was followed with several paragraphs of Goodenough rehashing airline and Biden administration policies on masks.
Goodenough did concede, however, that "Scientists say that masks, correctly warn, capture coronavirus-containing droplets that are emitted when a person speaks, sneezes or coughs, and that wearing one reduces the chances of transmitting and catching COVID-19." But he didn't mention that his employer has been claiming the opposite through publication of Meehan's commentary. So there's a mixed message here.
This is not "news" -- it's a political hatchet job. CNS did not treat the Trump administration's disdain of masks with the same derision.
Other examples of this reverse mask-shaming abound. Melanie Arter served up an attempted gotcha in an April 27 article:
President Joe Biden, who is fully vaccinated against the coronavirus, wore a mask Tuesday while walking outside by himself to the podium to announce new CDC guidelines that vaccinated people can go without masks outdoors as long as they are not in big crowds.

According to updated guidance from the Centers for Disease Control and Prevention, if you are fully vaccinated, "You can gather or conduct activities outdoors without wearing a mask except in certain crowded settings and venues."
Arter deliberately waited until the final two paragraphs of her 14-paragraph article to disclose the reason why Biden did that: so he could send a message by "watching me take it off and not put it back on until I get inside." That's dishonest journalism.
Patrick Goodenough tried his hand at mask-shaming in a May 3 article:
Asked why a fully-vaccinated President Biden still wears a mask outdoors despite amended CDC coronavirus precaution guidelines, a senior White House adviser said on Sunday she finds herself doing so too, out of "habit."

"It's interesting that you raise this," Anita Dunn told CNN's Jake Tapper. "I myself found that I was still wearing my mask outdoors this week, because it has become such a matter of habit."
Goodenough then referenced how "During a visit to Duluth, Georgia on Thursday, Biden – in an outdoor setting – briefly misplaced his mask, leaving the state's two masked Democratic senators waiting behind him on the drive-in rally stage as he and First Lady Jill Biden, also masked, looked for it" -- which CNS had previously made an issue of.
The next day, it was Susan Jones' turn:
President Joe Biden, a stickler for mask-wearing, was not masked last week, nor was his wife Jill, when they posed for a cozy, indoor photograph with (maskless) former President Jimmy Carter, 96, and his wife Rosalynn, 93.

Other photos show the Bidens wearing their masks as they walked out of the Carters' home in Plains, Georgia.
Next up was Craig Bannister, in a May 5 article:
Vice President Kamala Harris kissed her husband goodbye before she boarded Air Force Two on Tuesday – both wearing coronavirus masks, even though both have been fully vaccinated.

Harris was departing from Andrews Air Force Base in Maryland as she and Second Gentleman Doug Emhoff kept their masks on their faces as they engaged in an on-camera kiss.

Harris and her husband received their first COVID-19 vaccination shots in December, with the vice president using the event as a photo-op. Then, in January, both received their second doses during a press event reported by People magazine[.]
Arter returned to attack Biden anew in a May 13 article:
CNN "New Day" host John Berman asked White House senior advisor for COVID response Andy Slavitt on Monday why President Joe Biden and congressional leaders he met with them at the White House on Wednesday all wore masks despite all being fully vaccinated.

[...]

"Well, look, I think people who have been vaccinated are starting to get a little bit impatient with what can I do? Can I go indoors? Can I take masks off, et cetera? And I think the CDC is getting there step by step. So right now you can do pretty much everything outdoors without a mask, everything indoors if you're around vaccinated people without a mask," Slavitt said.

"So why were they all wearing masks?" Berman asked.

"I'm not sure the president is the average person. I personally think there's a lot of protections around the president. Why does he need lots of Secret Service agents?" Slavitt said.
That's how hard CNS has to work to continuously crank out negative anti-Biden content -- by turning masks into a political issue.
Another dubious doc
Arter wrote in an April 28 article:
Dr. Marty Makary, Johns Hopkins University professor of public health, said Wednesday that there are more people with tuberculosis right now in the United States than those with COVID-19.

CDC Director Rochelle Walenksy changed her mind Tuesday about what she predicted weeks ago of there being "impending doom" of coronavirus cases going up, vaccinations not being where they need to be and deaths continuing to climb.

She said that looking at the curve now, she sees it stabilizing or coming down.

"Look, I respect Dr. Walensky. She's showing humility there that she basically got it wrong. We knew that the infection was circulating in young people then where the case fatality rate is similar to seasonal flu. If you look at our numbers today, we're about 1/3 the daily cases of seasonal flu during a mild flu season," Makary told Fox News's "America's Newsroom."

San Francisco had 20 cases yesterday, most asymptomatic. What do you call that? Is it a public health emergency? Because if it is, we're gonna be in a perpetual emergency, because more people have tuberculosis than coronavirus right now in the United States. So I think we have a distorted perception of risk now," he said.

Makary predicted last month that the U.S. would reach herd immunity by April.
Related articles on ConWebWatch:
Arter didn't bother to fact-check Makary, so she didn't tell her readers that fact-checkers found Makary's claim about herd immunity was based on flawed data, namely his unsupported claim that 55% of Americans already have a "natural immunity" to coronavirus due to previous exposure.

And, of course, it's utterly irrelevant to compare coronavirus to tuberculosis, especially given that TB has been tamed through vaccination and Makary seems to be discouraging people from getting vaccinated for COVID. Which is an issue, because COVID cases have been rising where vaccination rates are low, which seems to further undermine Makary's claims about "herd immunity."

(WND has also touted Makary's dubious claims, making this yet another case of creeping WND-zation at CNS.)

Arter also engaged in a little recycled reverse mask-shaming: "As CNSNews.com previously reported, President Joe Biden took heat yesterday for wearing a mask outside to announce that vaccinated people don't have to wear masks outside unless they are in a crowd." As noted above, Arter buried the reason Biden did that: he illustrated his point by leaving the podium mask-free after his speech.
The latest from