No, MRC, Demonitization Of Piers Morgan Column Is Not 'Censorship'
Topic: Media Research Center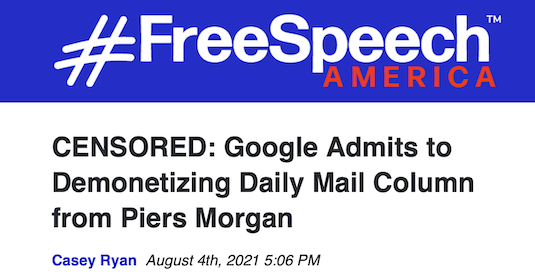 The Media Research Center loves to describe things as "censorship" that are not censorship at all. Casey Ryan took that to a new level by complaining in an Aug. 4
post
:
Talk about Olympic-sized censorship. Google admitted that the platform demonetized a column from former talk show host Piers Morgan that merely criticized Olympic gymnast Simone Biles for abandoning her team at the Tokyo Olympic Games.

In a column for the Daily Mail headlined "Free speech is dying and woke Google is helping to dig its grave," Morgan said Google demonetized a column he wrote critical of Biles only eight hours after it was published. "This meant they banned all adverts from appearing alongside it, so the Mail would receive zero revenue from the column appearing on Google," Morgan wrote.

He emphasized that the platform's censorship was "a big deal" because "Google and Facebook have a virtual monopoly on online advertising revenue, hoovering up 80% of the entire market between them." In a response to MRC Free Speech America, Google admitted to demonetizing Morgan's column.

Google did not accuse Morgan of making a racist or bigoted remark, but accused readers leaving comments under his column of racist activity. "Our systems detected racist content in the comments under a recent MailOnline article from Piers Morgan so we blocked ads from showing against the article in accordance with our policies. The article remains on MailOnline, but advertisers using our ad tech will not see their ads running alongside it while those comments remain," a Google spokesperson said in a statement.
This was not "Olympic-sized censorship." Indeed, it was not "censorship" at all. Nobody was prevented or even mildly inconvenienced from reading Morgan's column. No commenter was prevented or inconvenienced from commenting. The column is stil available. The Daily Mail -- a notoriously biased and inaccurate newspaper -- just can't make any money from people's eyeballs. And the last time we checked, private companies still have the choice to not associate themselves with content they find offensive.
Nevertheless, Ryan continued: "No website appears safe if Google is willing to censor stories with anonymous comments." Again: Morgan was not "censored," and the comments section was not "censored." Ryan never called out the Daily Mail's responsibility to run a comments section that's properly moderated and free of racism and bigotry, or that perhaps Google's demonitization of Morgan's column might nudge the Daily Mail toward accepting that responsibility.
THe MRC and its Free Speech America project will continue to discredit themselves if it continues to false describe any criticism of a conservatve "censorship."
Posted by Terry K. at 9:52 PM EDT