CNS Trying To Downplay COVID Deaths In Children
Topic: CNSNews.com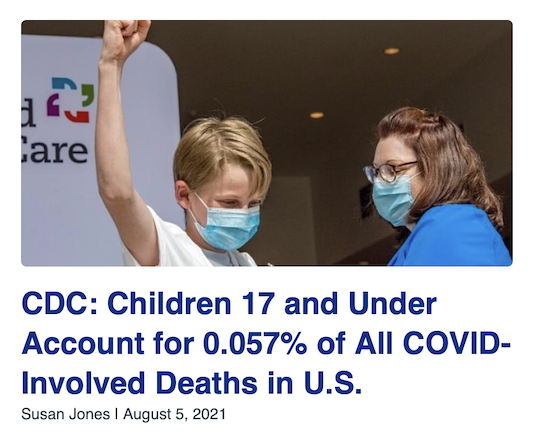 As we've documented, CNSNews.com's editorial agenda regarding its coverage of coronavirus is, in part, to downplay the number of children that have been killed by it, presumably as a component of the right-wing campaign to open schools for in-person learning and fight mask mandates. We saw it already with a question CNS' summer interns ambushed members of Congress with regarding whether schools should be able to mandate that students be vaccinated (even though no vaccine has been approved for children under 12). But it's been done other ways as well.
Susan Jones -- who was CNS' leader in 2020 in downplaying COVID deaths to try and make President Trump look good -- was serving up a different kind of downplaying in a July 20 article:
Since the start of the pandemic 18 months ago, in January 2020, a total of 335 children ages 17 and under have died of COVID-19, according to the federal Centers for Disease Control and Prevention.

In that same 18-month time period, a total of 49,725 children ages 0-17 have died from all causes. So COVID deaths account for 0.673 percent of all deaths among children under 17, based on death certificates submitted so far to the National Center for Health Statistics.

Jumping to the next age group, 18-29, 2,446 have died of COVID-19, or 2.607 percent of the total 93,796 deaths for this age group since January 2020.

[...]

Although children under 17 -- and people under 29 -- are less likely to die from COVID than older people are, the CDC and the Biden administration are pushing hard for everyone 12 and older to get vaccinated.
Taht last paragraph, we assume, is there to make it clar that Jones is making a political argument, not a medicine-based one.
Jones repeated her claims in another article that day complaining that experts are advising masks in schools:
"As the director of the CDC, it is my priority to get our children back to school for safe, in-person learning," Rochelle Walensky told the Senate Health, Education, Labor and Pensions Committee on Tuesday.

That includes COVID vaccination for everyone 12 and older; and it requires "layered prevention strategies," which means face masks for all.

(The American Academy of Pediatrics also is recommending< "a layered approach to make school safe for all students, teachers and staff...That includes a recommendation that everyone older than age 2 wear masks, regardless of vaccination status.)

The CDC and the rest of the Biden administration are pressing hard for the vaccination of everyone 12 and older. Studies are now underway on vaccinations in children as young as two.
Jones waited until late in the article that the Delta variant of COVID is surging and causing hospitalizations and deaths, even among children.
Craig Bannister devoted a July 28 article to Donald Trump ranting, "We won't go back. We won't mask our children," while saying nothing about Trump's abysmal record on fighting COVID during his presidency, and waiting until the end of the article to note an actual medical expert stating that the Delta variant "prompted CDC's updated masking guidance for fully vaccinated people, including school kids."
On Aug. 2, Jones railed at another medical expert: "Dr. Francis Collins, director of the National Institutes of Health, said on Sunday that mask-wearing for schoolchildren may be 'inconvenient,' but it makes good 'common sense.'"And on Aug. 5, Jones had a body-count update:
As of Wednesday, August 4, a total 349 children ages 0-17 have died of COVID since the pandemic began in January 2020, based on death certificates submitted so far to the CDC's National Center for Health Statistics.

In that same time period, CDC counts a total of 606,389 COVID-involved deaths in the United States. So children account for 0.057 percent of all COVID-involved deaths, or those coded toICD–10 code U07.1.

CDC does not disclose what, if any, underlying conditions those 349 children may have had.

Since January 2020, the CDC has recorded 51,892 deaths from all causes in children 0-17, which means the 349 COVID-involved deaths equals 0.67 percent of the deaths in children from all causes.
Jones did not highlight the fact that 14 children had died of COVID the previous month. And she waited until the eighth paragraph to mention that cases and deaths are rising overall, while still complaining that "Amid the Biden administration's intensive push to vaccinate reluctant Americans, we hear a lot about the transmissibility of the delta variant."
Jones tried to play statistics gotcha with Anthony Fauci in an Aug. 13 article:
At a news conference on Thursday, a reporter asked Dr. Anthony Fauci if the delta variant is more virulent in children.

"There's no doubt that there are more children getting infected," Fauci responded, without giving any numbers:

[...]

But it's not yet clear if more children in the hospital will lead to a spike in children dying.

According to the most recent (August 11) data from the Centers for Disease Control and Prevention, 354 children ages 0-17 have died of "COVID-involved" illness in the United States since the start of the pandemic in January 2020. This is based on death certificates submitted so far to CDC's National Center for Health Statistics.
Jones then effectively conceded CNS' spotty reporting while also repeating statistics show deaths among children have gone up as the Delta variant has spread:
CNSNews.com periodically tracks the number of children ages 17 and under whose death certificates list COVID.

On March 24, 2021, that number was 238; On July 20, the number had increased to 335; on July 28, the number was 340; August 4, the number was 349; and one week later, as noted above, the number had increased by 5 to 354.

Although the number of children dying because of or with COVID is likely to increase, children continue to be a very small percentage of all COVID-involved deaths.

The 354 children 0-17 who died of or with COVID as of August 11 represent 0.0579 percent of the 610,425 total COVID deaths in this country (based on CDC's most recent death certificate data).
Jones was on the warpath again the following week. On Aug. 16, she grumbled that Collins "made the case for children wearing masks in school, a CDC recommendation based on 'more than a dozen publications showing that evidence'" -- then three days later, again downplayed COVID risk to children:
Most reported cases of COVID-19 in children under the age of 18 are asymptomatic or mild.

However, the Centers for Disease Control and Prevention says hospitalization rates for children, while far lower than that for adults, are increasing in school-age children, ages 5-17.

Some of these children are at risk for severe COVID, CDC says, particularly those with underlying medical conditions.
She waited until the final paragraph to note CDC research showing that "SARS-CoV-2 transmission occurs more easily in high schools than in elementary schools, and outbreaks have been associated with high school extracurricular activities. Vaccination of adolescents is expected to reduce the risk for COVID-19 in these settings."
In yet another body-count article on Aug. 19, Jones pushed a talking point about comorbidities:
The CDC told CNSNews.com that the National Center for Health Statistics does not track health conditions that may have contributed to the deaths of children in that specific 0-17 age group, although it does track co-morbidities in the broader 0-24 age group, based on information from death certificates.

In the 0-24 age group, which mixes adults with school-age children, the most prevalent co-morbidities listed on death certificates are respiratory illnesses, influenza/pneumonia, obesity, diseases of the circulatory system, and sepsis.
It's a right-wing talking point to downplay the number of COVID deaths by raising the question of comorbidities, even though COVID unquestionably contributed to their deaths. Meanwhile, Jones is discounting the deaths of those children because there apparently aren't enough of them for her to care about.
Posted by Terry K. at 12:49 AM EDT