Newsmax Tries To (Anonymously) Back Up Bogus Trump Claim On Biden
Topic: Newsmax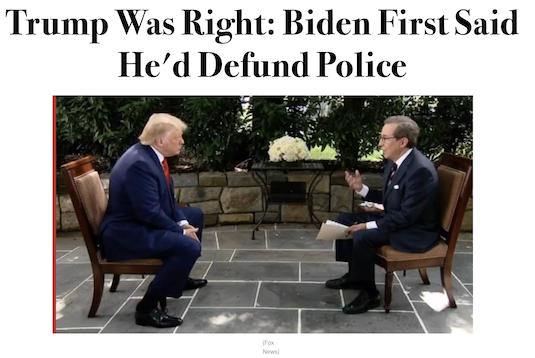 It's generally agreed that President Trump got it wrong when he claimed Joe Biden wants to defund the police, and that Fox News host Chris Wallace was correct to call Trump out on that claim. But Newsmax -- whose CEO, Christopher Ruddy, is a buddy of Trump -- has decided differently.
Trump Was Right: Biden First Said He'd Defund Police" shouted the headline of an anonymously written July 19 piece. The nameless writer ranted:
It was like a "gotcha" moment reminiscent of Chris Wallace's dad on "60 Minutes."

Tapes are rolling. The president is the target.

The president says Joe Biden wants to defund the police.

Young Wallace snaps back, "No he does not."

But the facts show Trump was right. Biden had called for defunding the police.

And Trump was correct when he made the point in his interview Sunday with< Fox News host Wallace.

[...]

But earlier this month on liberal commentator Ady Barkan's podcast, Biden was asked if he supported defunding the police.

Barkan asked Biden: "[D]o we agree that we can redirect some of the [police] funding?"

Biden responded: "Yes, absolutely."
Even pro-Trump Fox News host Howard Kurtz wasn't buying this argument. Biden has never explicitly said he wanted to defund the police, and he pointed out the Biden interview with Barkan went beyond ouir anonymous Newsmax writer's cherry-picked clip, adding that he would also "condition" funding on things like banning chokeholds. Kurtz also pointed out that defunding police and redirecting police funding aren't the same things, although "some say diverting is funding."
Our anonymous Newsmax writer went on to take refuge in conflating the two: "fter Biden's clear cut call for redirecting police funds, his campaign went into cleanup mode, denying Biden supported police defunding." he then regurgitated a Trump tweet repeating the falsehood.
But if this argument is so ironclad, why didn't our anonymous author want to put his or her name on it? It's unusual for Newsmax to publish anonymous opinion pieces. Maybe the writer is a bit ashamed of having to peddle this opinion.
Posted by Terry K. at 6:21 PM EDT